Hundreds of NEW Design Templates to Customize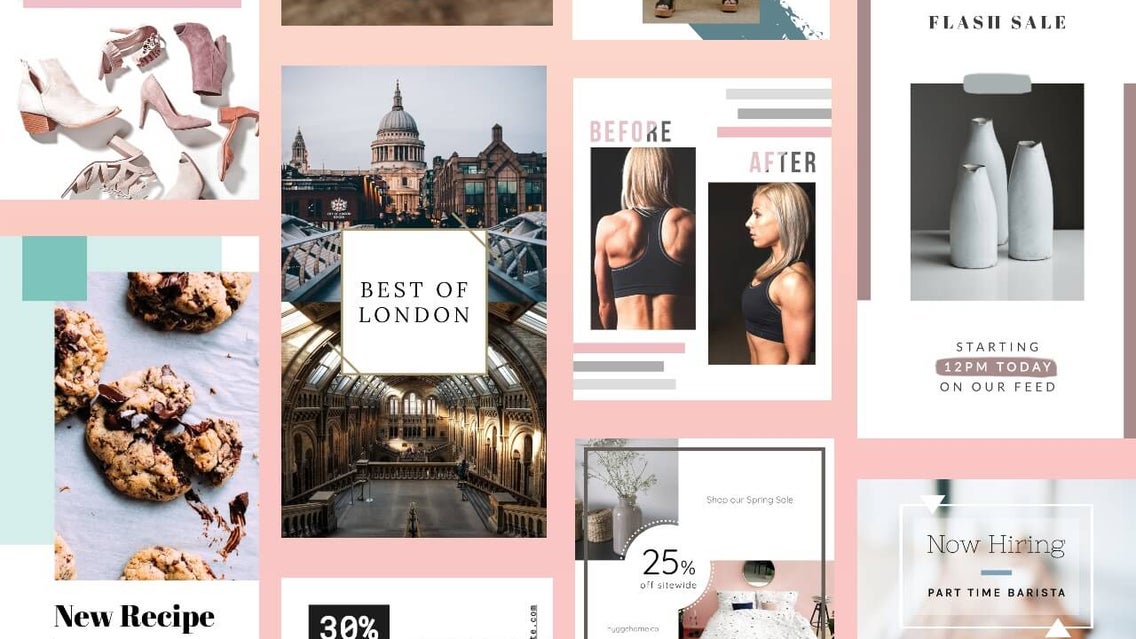 We've been working on something HUGE and it's finally time to tell you all about it: there are now hundreds of brand new design templates available for you to customize like crazy! Whether you need them for branding your business, promoting your next real estate open house, designing the perfect wedding or party invites, or simply creating a photo quote for Instagram, you are bound to find the ideal template (and then some). You'll notice entirely new categories like YouTube Thumbnails, Instagram Posts and Stories, and Postcards, to name just a few. The new design template collection is so massive that we've even added search functionality to help you find exactly what you're looking for!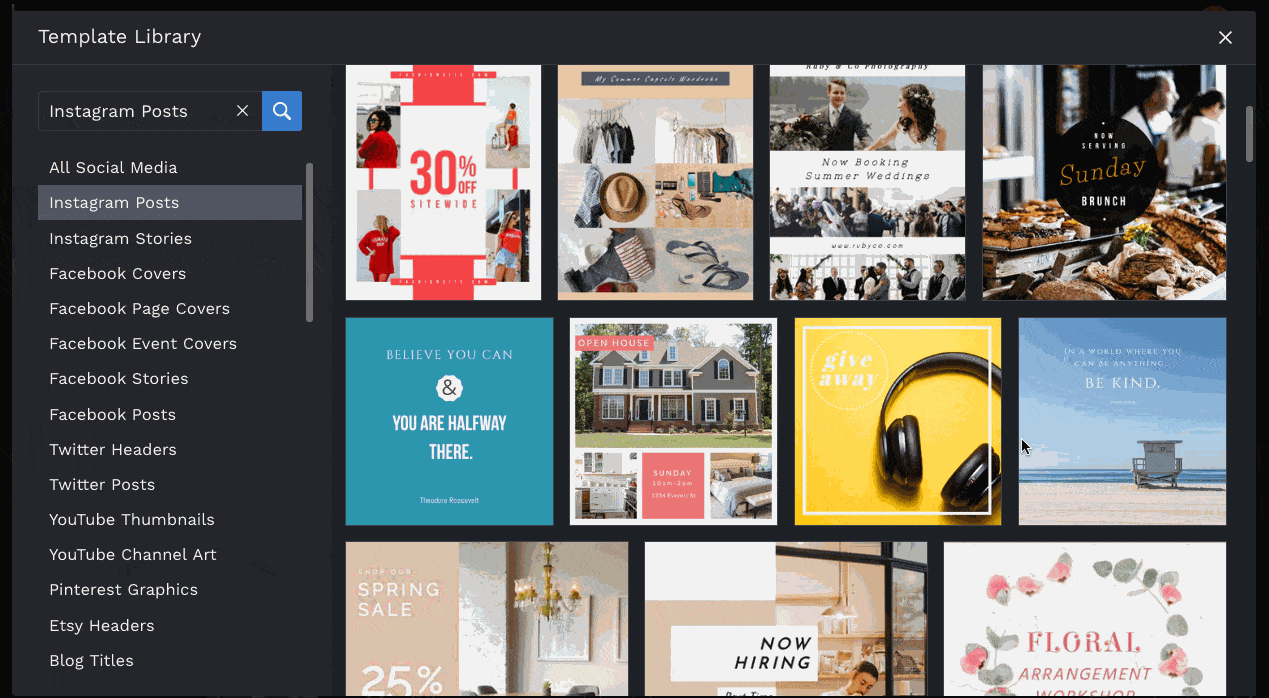 The best thing about our templates is that they're pre-designed by professional graphic designers to serve as a guide for your projects. All you have to do is edit the text, customize the color scheme, and drag-and-drop your favorite photos in. Each template can be customized beyond that by placing graphics, adding as many textboxes as you want, and more! Consider them the perfect way to DIY your social media graphics, marketing materials, and basically fulfill your design needs without having to hire a graphic designer.
How To Search Design Templates
Like we mentioned before, there are so many new design templates in our collection that we've added a new search feature to help you find the perfect ones. Now in the Templates tab of our Graphic Designer, you'll see a new button titled Search Templates. Click on it to begin your search.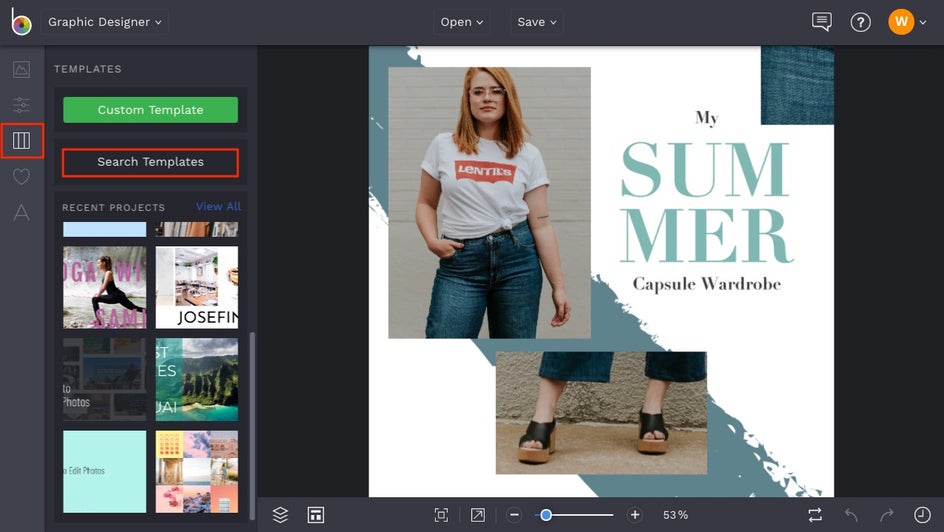 In the Template Library that appears, you can either type a search term into the Search Templates box, or click on the categories in the menu on the left. The thumbnail previews for your search terms will appear in the Template Library for you to choose from.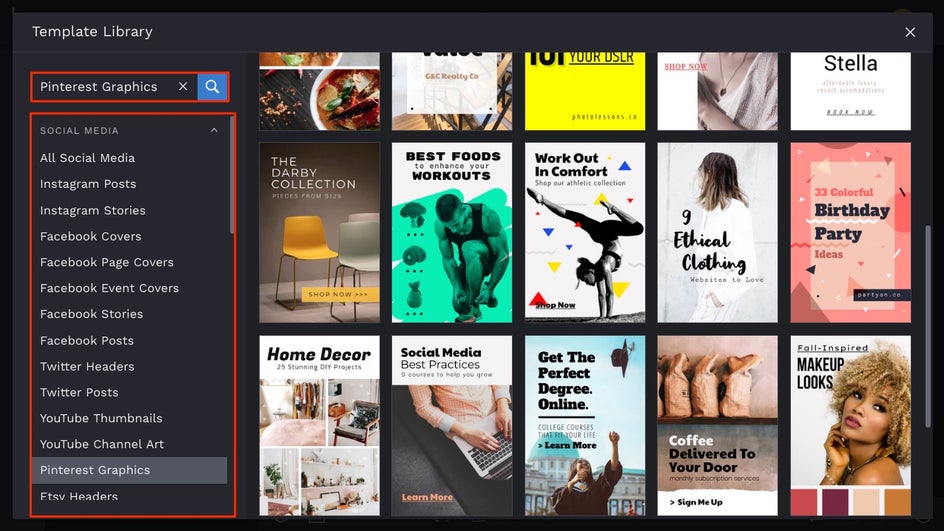 Clicking on any thumbnail will let you see the template close up. When you find the perfect one, click the Select Template button to load it onto the canvas.
What's New In Design Templates
Our professional designers have been hard at work crafting the perfect design templates for your projects, and we've added tons of new categories for you to choose from! Here are just a few noteworthy new additions from the library:
Instagram Post and Story Templates
Instagram is all about visuals. From posts to Story sets, there are a lot of design decisions that need to be made in order to help make your imagery powerful. We've made it easier than ever with our beautifully pre-designed templates that will help you create posts for Instagram Giveaways, promoting events, sharing photo quotes, and spreading the word about your business.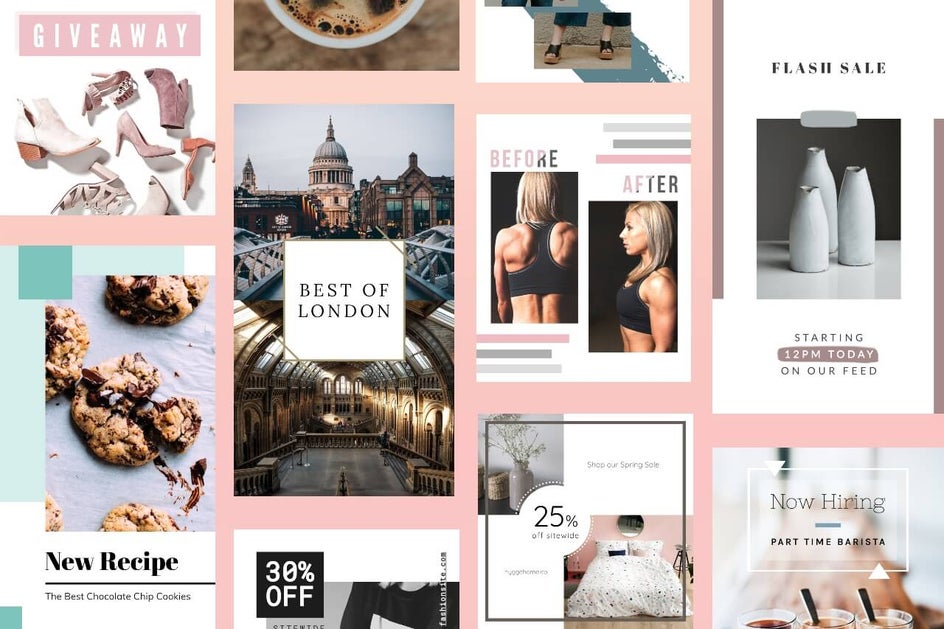 To accompany those posts, you'll find plenty of Instagram Story design templates that are perfectly sized and easy to customize. They work for Facebook Story sets as well, so no matter what kind of Story you need to share, we've got you covered.
YouTube Thumbnails and Channel Art
For the YouTube stars (or those aspiring to be), we've added ideal layouts for on-brand YouTube Thumbnails and YouTube Channel Art. Your video thumbnails are essentially a mini-advertisement for your content, as well as a gateway to your YouTube channel. In other words, it's really important that they're well-designed and represent your content in the most click-worthy way.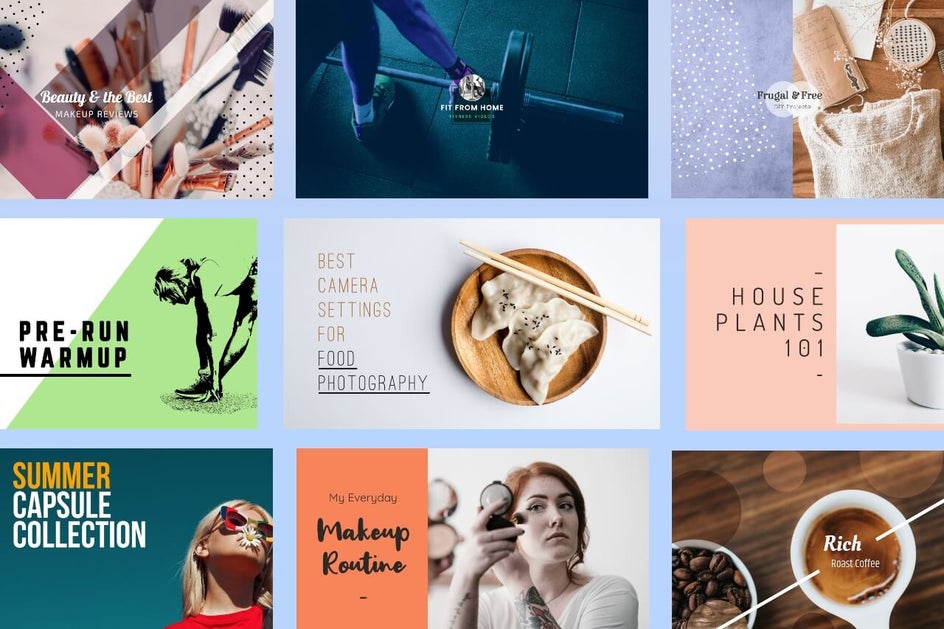 And just like your YouTube Thumbnails are representative of your brand, your YouTube Channel Art is like your storefront signage! These new design templates can help you create captivating YouTube Channel Art that you're proud of, and help you build a brand worth subscribing to.
Pinterest Pins
You're probably well aware that Pinterest is a goldmine for driving traffic to your website and business. Since it's such an important component of online marketing, we've designed a huge assortment of Pinterest Pins for you to customize and share! From single image to collage-style Pins, there's a layout for whatever you want to share, already optimized for Pinterest-friendly sizes.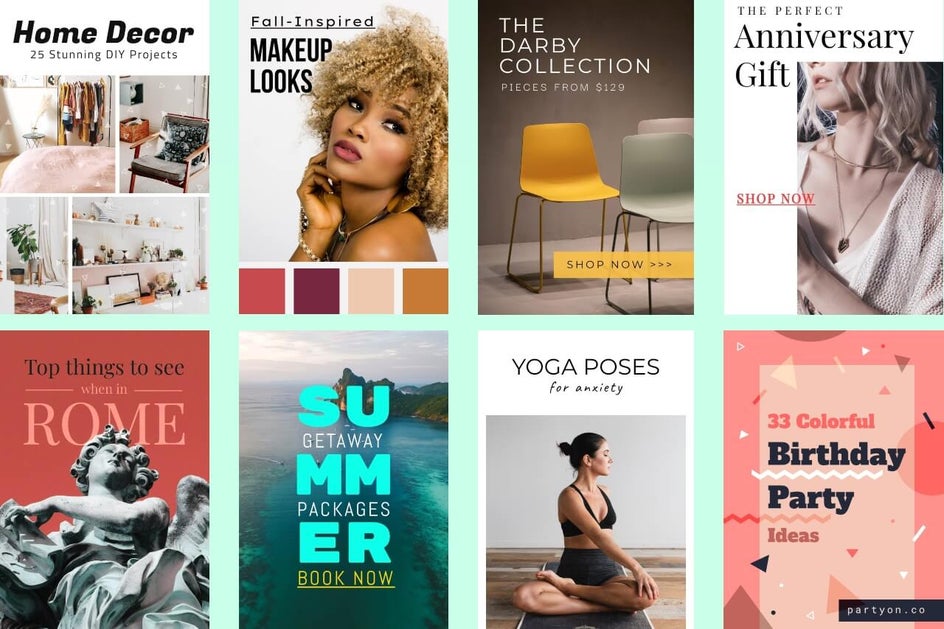 The best part about designing Pins with BeFunky is that we offer the ability to share your final design straight from our platform to Pinterest. That way, you can save tons of time in your marketing efforts and make it look like you've got your own in-house designer behind it all.
Postcards
If direct mail is part of your marketing mix, we've got the perfect Postcard templates for you! You'll find a huge collection of Postcards (front and back) that are easily customizable to suit your business needs.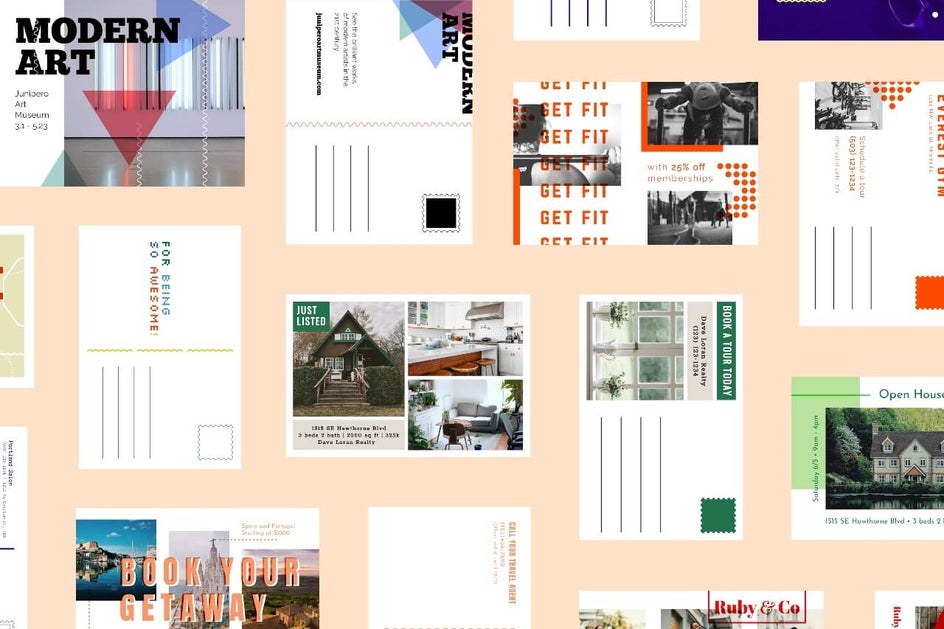 From appointment reminders to retail sale advertisements, real estate marketing, and more, there's something for every kind of business.
Brochures
Even in the digital age, brochures are still an essential part of marketing for real estate agents and other business professionals.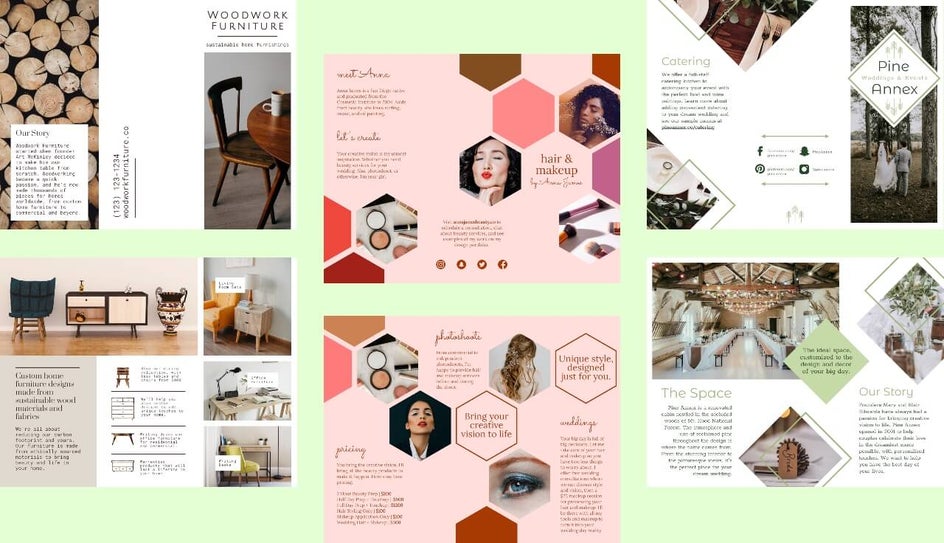 You'll find tri-fold layouts (front and back) for all of your marketing needs, whether you need brochures for your retail shop, office, open house, catering business, or otherwise!
Online Advertising Collections
If you're in need of display ads for your business, we've got you totally covered. Choose from a variety of Leaderboards, Skyscrapers, Rectangles, Half Pages, and Mobile Ads that are perfectly sized and easily customizable for any business. We've even got the perfect Facebook Ad templates to go with!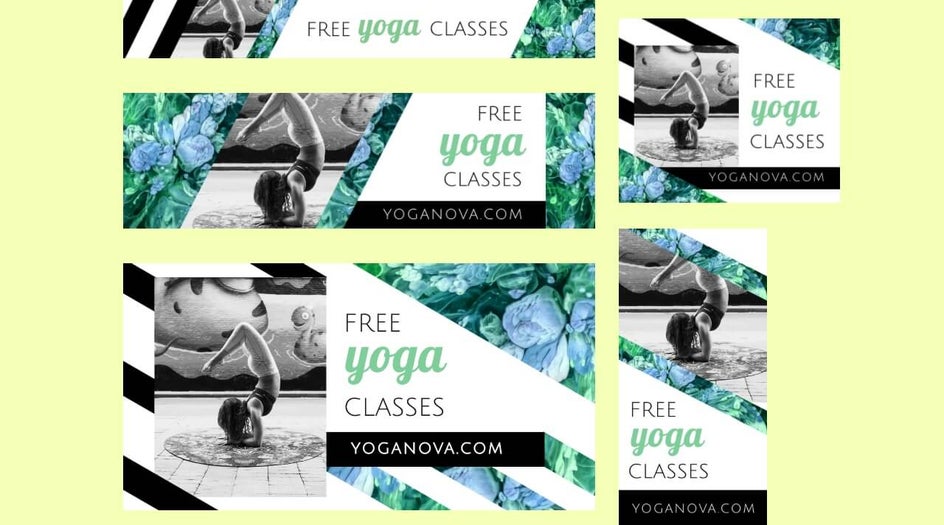 The best part about our Online Advertising templates is that the designs aren't standalone - you'll find entire collections of designs that span Leaderboards, Skyscrapers, Rectangles, Half Pages, Mobile Ads, and Facebook Ads. This way, you can create an entire campaign with your online ads and won't be limited to one size.
Wedding Printables
Perfect for the DIY bride or groom, our wedding templates include matching sets of Wedding Invitations, Save The Dates, Thank You Cards, and Menus. You can choose to personalize just one of the items in the set or all of the above. Each template will allow you to change the color scheme (to match your perfectly planned hues), plus you'll be able to select from a long list of free fonts to get the look you're dreaming of.
Hiring a designer for wedding printables can take up a large chunk of your budget, but these wedding templates will save you tons of money that you can put towards your honeymoon! They're already pre-designed by the professionals, so you can rest assured that the majority of the hard work is taken care of for you.
Holiday Cards
Just in time for the holidays, you'll find a variety of Winter Holiday greeting cards to send out to friends and family. Designing your own greeting cards is as simple as adding your favorite photo, personalizing the message, and you're good to go. All that's left to do is decide whether you want to print and mail them or save them as a file for sharing online.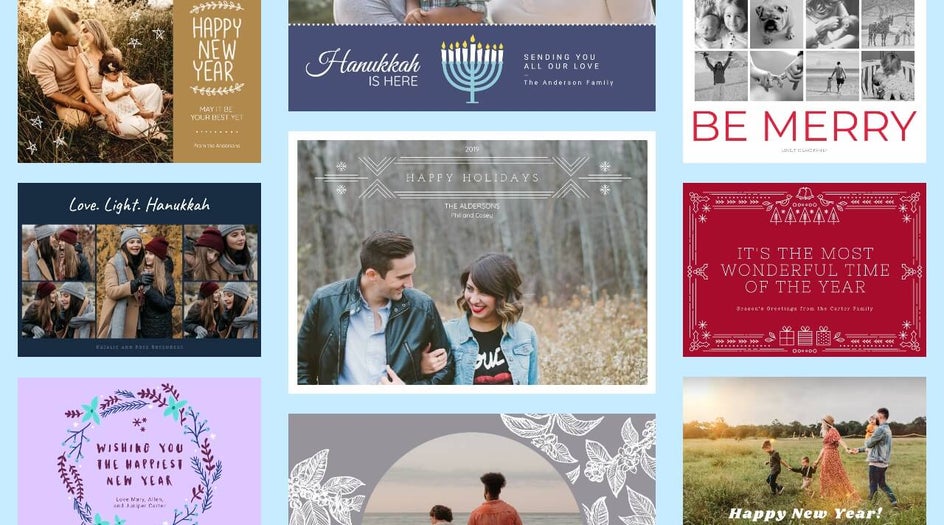 These design templates are only a tiny fraction of what you can find in our Graphic Designer. You've got to head over and see all of the amazing new templates for yourself! Click the link below to get started:
Graphic Design, Simplified.
---