All the Photo Collage Layouts You Could Need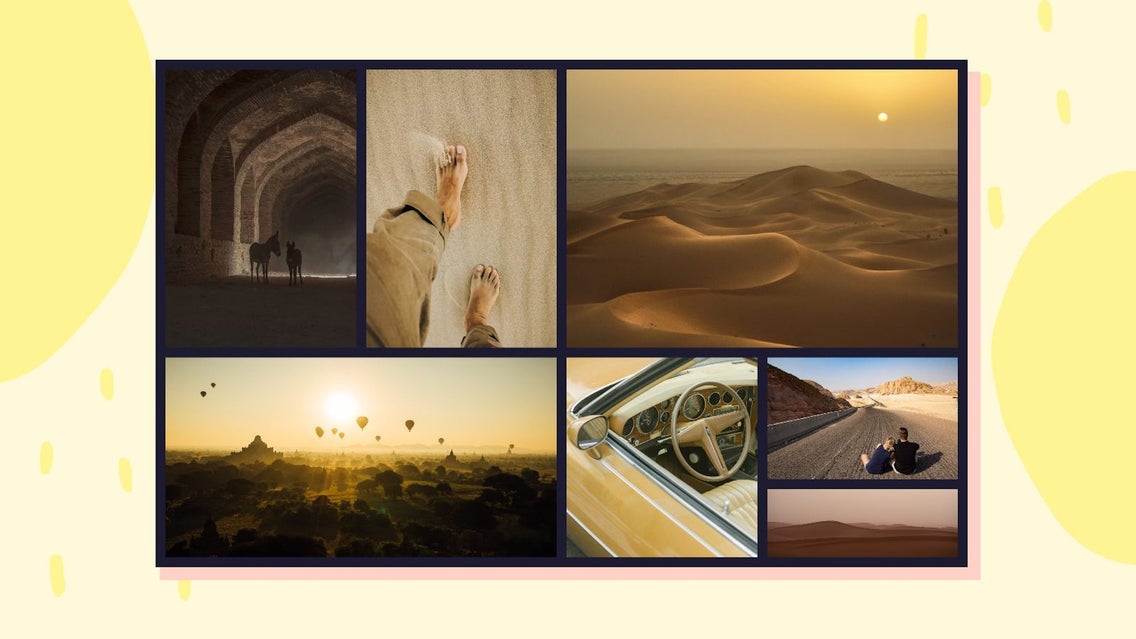 Photo collages are useful for many different platforms. From Facebook to Pinterest, collages can be utilized to showcase an array of photos, or even a whole mood, where a single photo just won't suffice.
If you are looking for a simple way to create beautiful collages, look no further than BeFunky's Collage Maker. This article will cover our many Layout options, and what you can do with them! Hopefully, it will inspire you to create your own.
A Overview of BeFunky's Collage Layouts
If you want to follow along and check out all the layouts in this article, head to the Collage Maker by clicking this link. Select the Layouts tab to see BeFunky's selection. Now, let's get started!
Photo Grid Layouts
BeFunky's Grid Layouts are a great way to create before and after photos, collages for your blog or social media post, or showcase all of your favorite photos from your latest vacation. With tons of grid options, you can choose to showcase two photos, twenty photos, or more!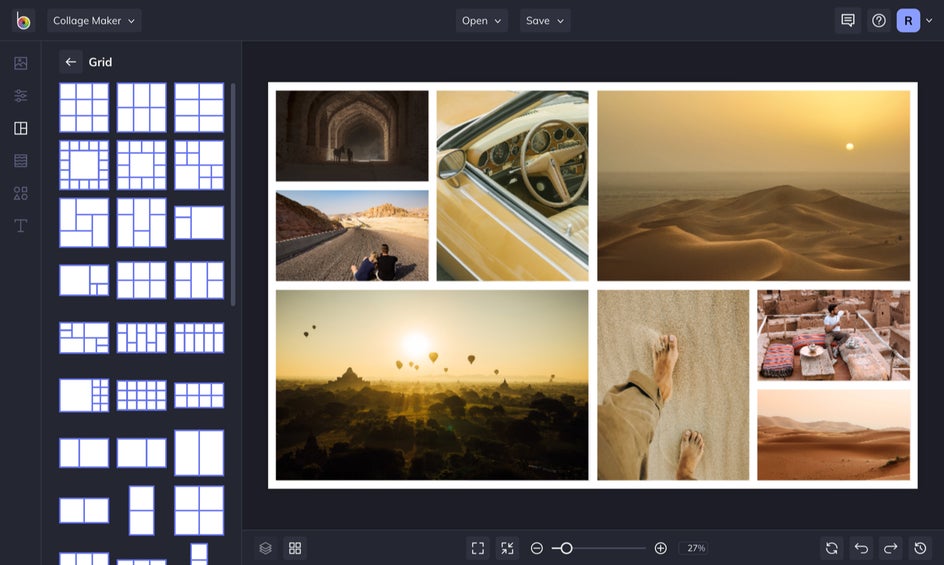 Big Photo Wrap Layouts
A Big Photo Wrap Layout is just what it sounds like – one big photo surrounded by multiple cells for supporting imagery. This is the best option when you want to highlight a subject in the midst of other images.
We love utilizing this option for holiday cards, birthdays, or graduation announcements!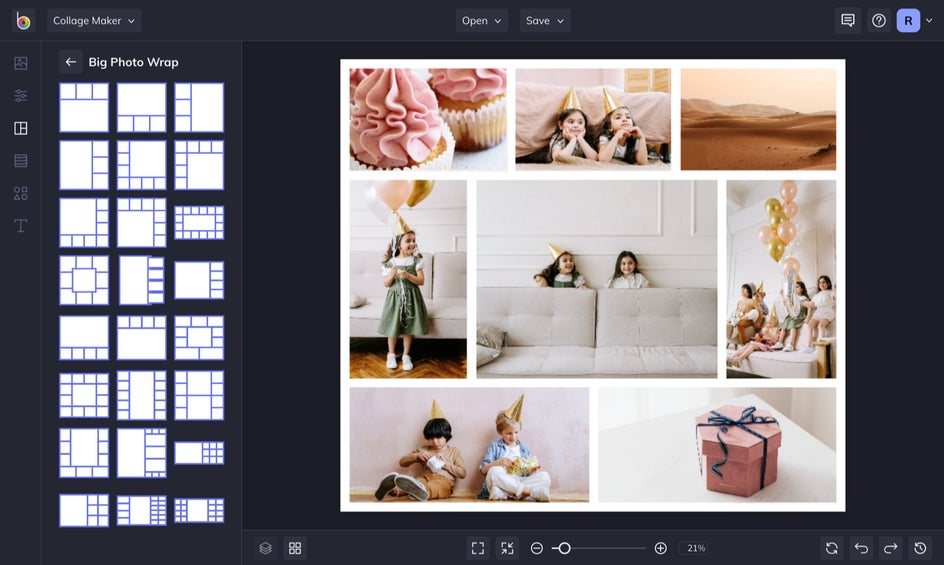 Facebook Cover Photo Collage Layouts
Facebook Cover Layouts will help you create the perfect collage for your Facebook page. Not only are they perfectly sized for Facebook headers, but they also account for the placement of your Facebook profile image, so you never have to worry about needing to re-edit your collage after uploading.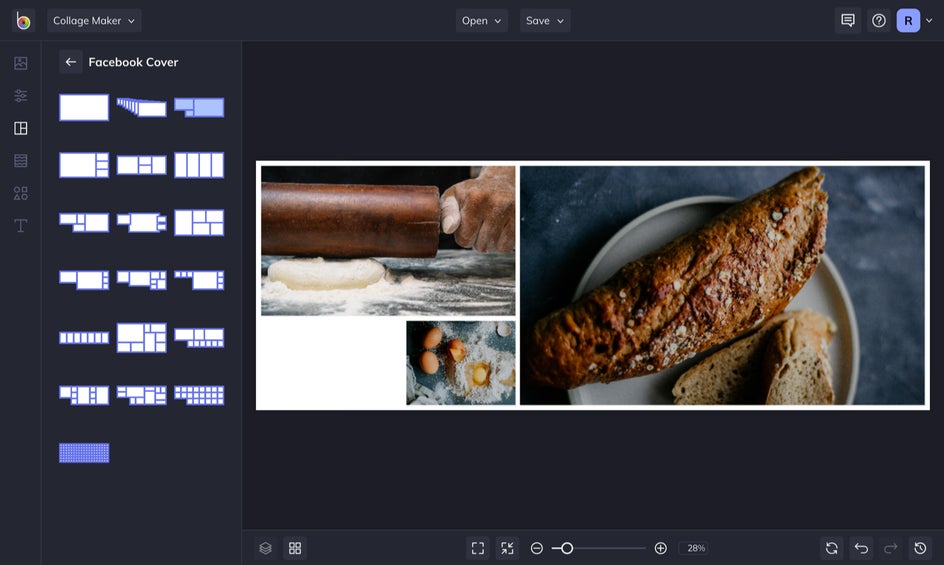 Pinterest Pin Layouts
Whether you need to showcase a step-by-step Pin or you want to post multiple photos to highlight your best recipe or DIY craft, Pinterest Pin Layouts make content creation easy by offering pre-sized layouts and formats accepted by Pinterest. For an easy-to-follow tutorial, click here!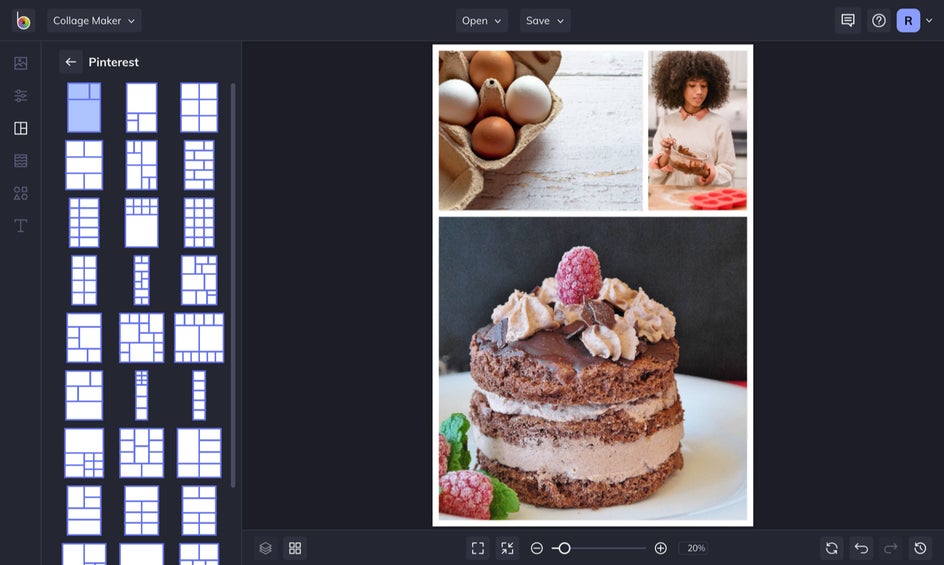 Collage Wizard
If you are the type of person who likes a hassle-free design process, look no further than our Collage Wizard. Simply select the photos you want to add to your collage and the Collage Wizard will automatically generate all of the high-resolution layout options for you to choose from.
After you pick the layout you want, you can further customize your photo collage by adding and deleting cells, resizing them, and rearranging assets to fit your preference.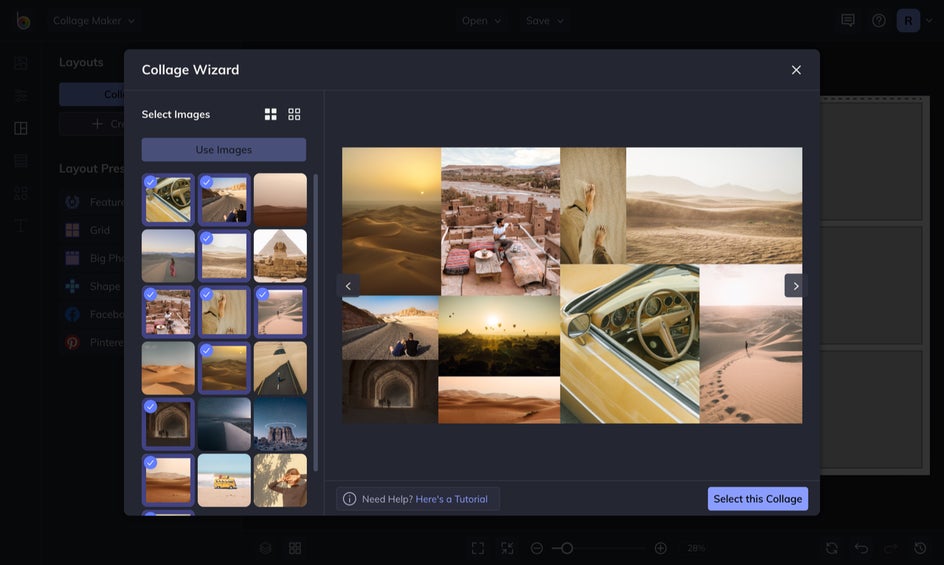 Custom Layouts
If you have a very specific vision in mind, you can also create your own, custom layout. Whatever you imagine, our Collage Maker has a way to make that happen – with a bit of tweaking here and there.
All you have to do is click the + Create Your Own button and drag and drop your images onto the canvas. From there, you can adjust sizing, position, and more!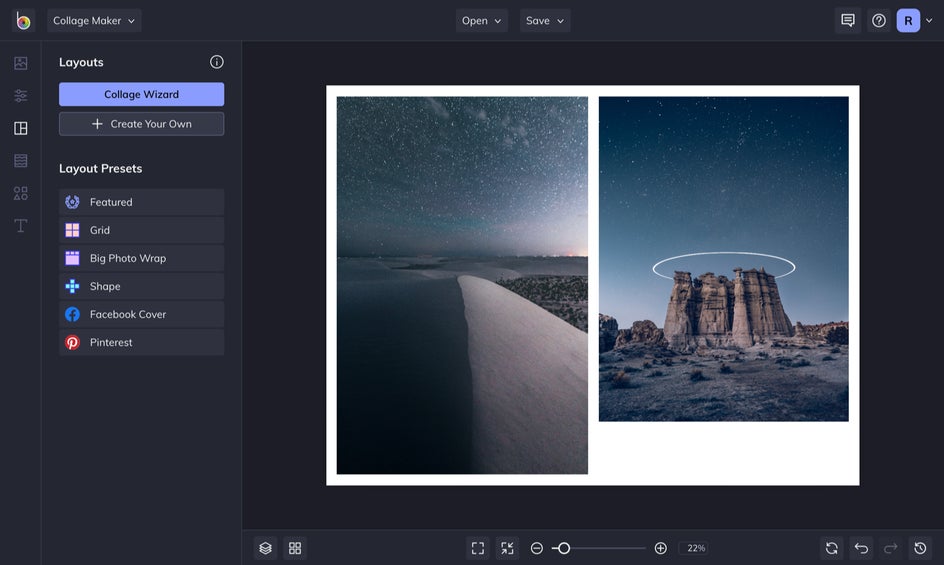 The Essential Collage Layouts
No matter what type of collage you want to create, BeFunky's Collage Maker can do it all. From Facebook Layouts to fully Customized Layouts, make sure to play around with all that BeFunky has waiting for you.
The Easiest Collage Maker on the Web
---