Perfect High Resolution Photo Collages, Every Time.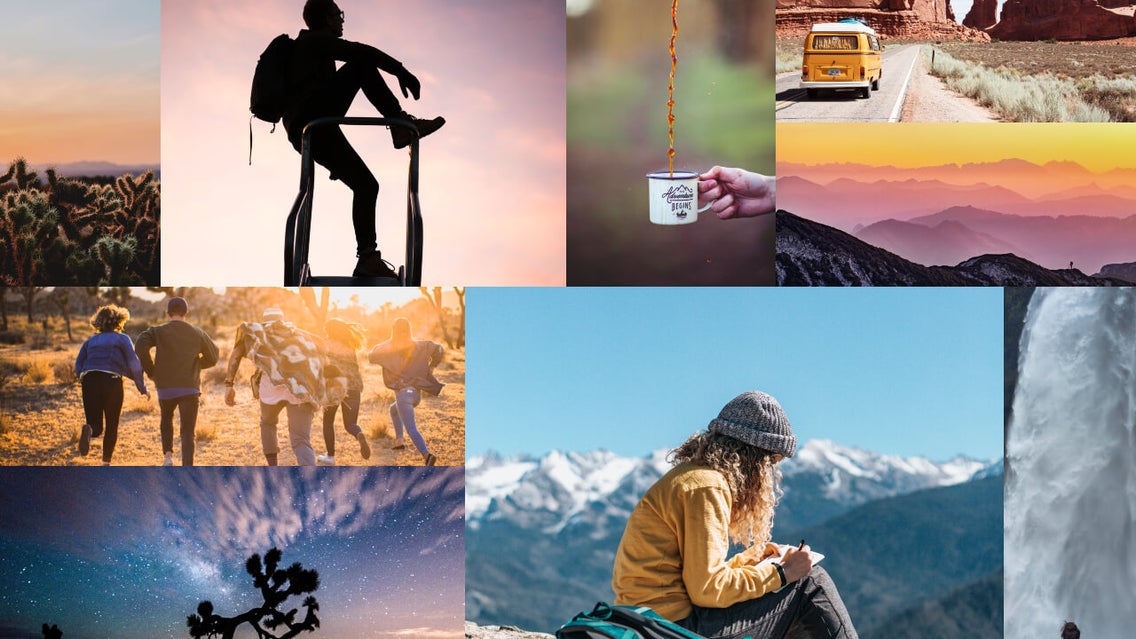 Just when you thought the drag-and-drop functionality and layout selection in BeFunky's Collage Maker was the easiest way to create collages online, we've got something even more effortless: the Collage Wizard. Just like the name implies, it works like magic to create picture perfect collages. And unlike any other collage maker out there, it actually does the work for you. All you have to do is choose the photos you want to use, then watch the Collage Wizard transform them into impeccably proportioned, high-resolution collages right before your eyes!
Watch this quick video to see it in action: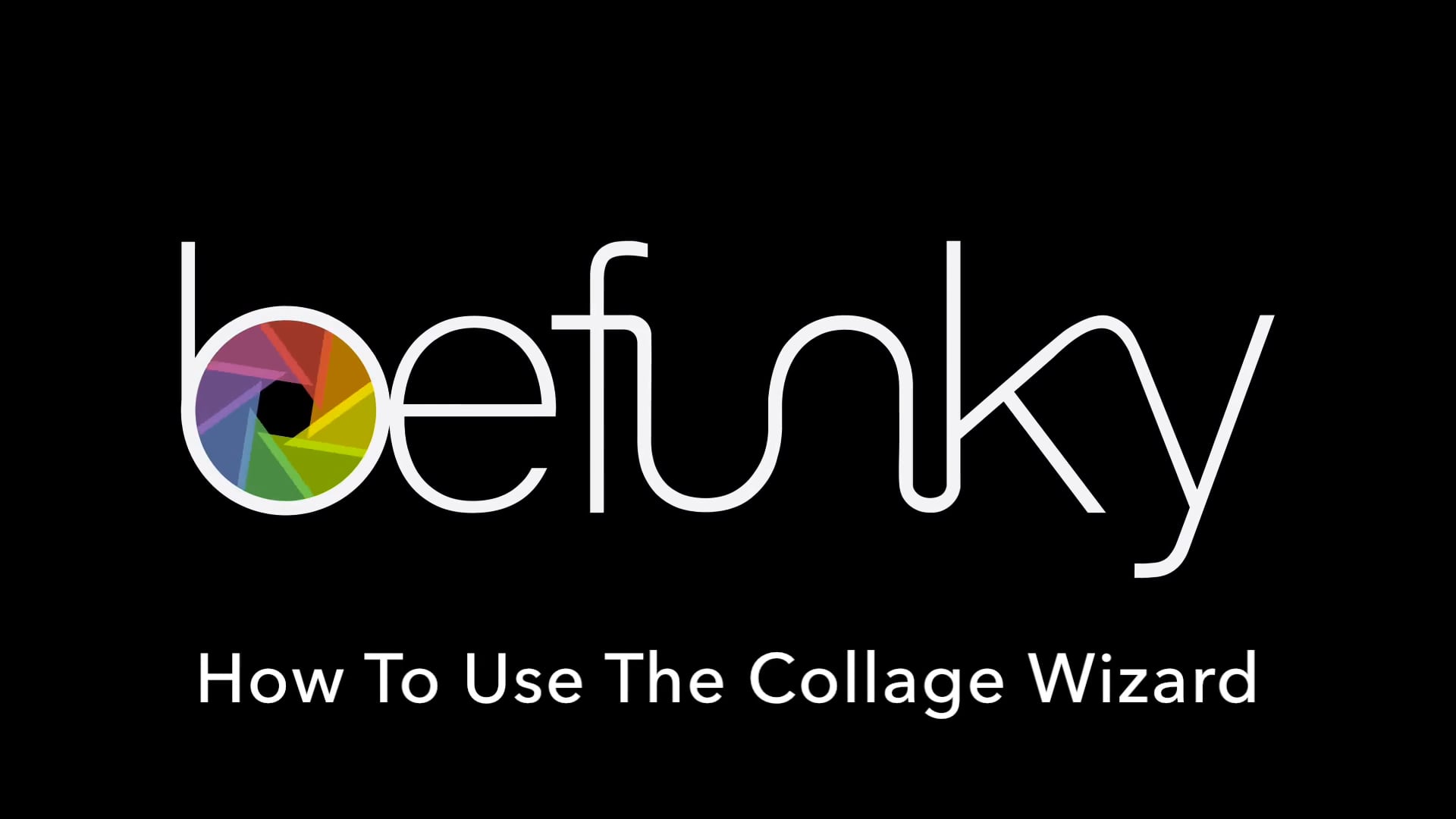 Sound too good to be true? This is one of those cases where it actually is true. Never again will you have to resize, crop, or clip your photos before creating a collage. The Collage Wizard keeps every pixel intact, and generates endless layouts for you to preview, so all you have to do is focus on selecting your very favorite. That means picture perfect collages, every time!
How To Use The Collage Wizard
To get started, head to the Collage Maker and click on the Image Manager tab (the top icon) in the menu on the left side of the screen. Once there, you will be able to upload photos from your computer, Facebook, BeFunky account, and more.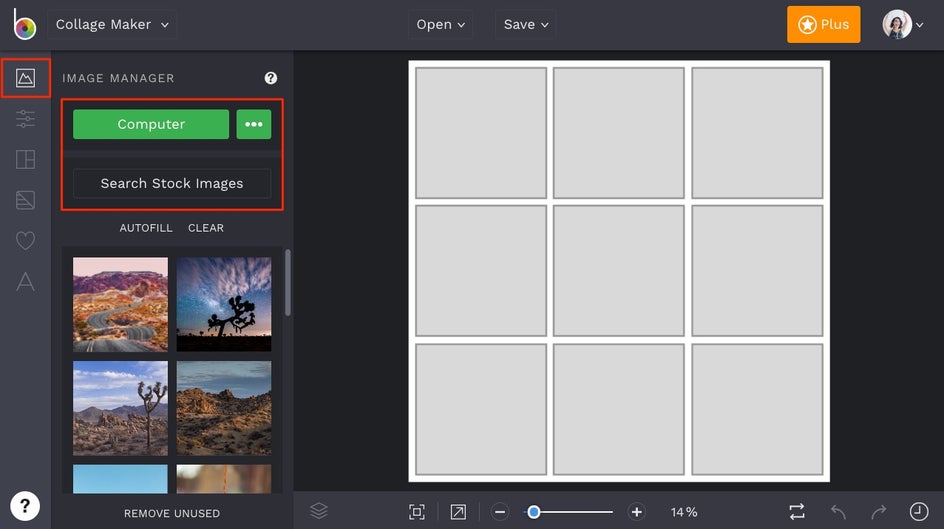 Want to use stock photos instead? Clicking on the Search Stock Photos button will allow you to search over a million free stock photos from Pexels and Pixabay to use in your collage. Just type in a search term, click on the images you want to use, and they'll automatically upload into the Image Manager! Once your images are uploaded, click on the Layouts tab from the menu on the left and select the Collage Wizard button.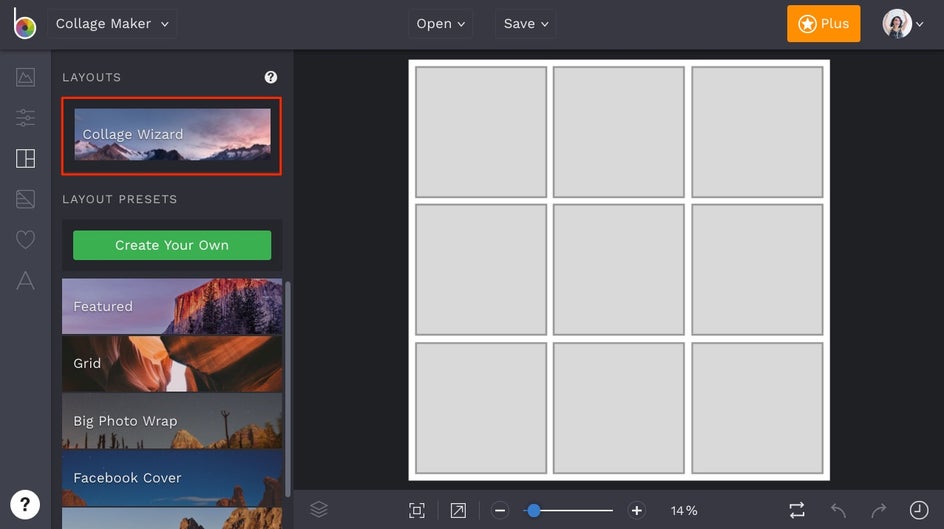 When you open the Collage Wizard, a box will appear with your images from the Image Manager already there, waiting to be used. Select the ones you want included in your collage by clicking on them, and click the Use Images button. Your photos will then turn into a collage automatically, without cropping or clipping any of the photos.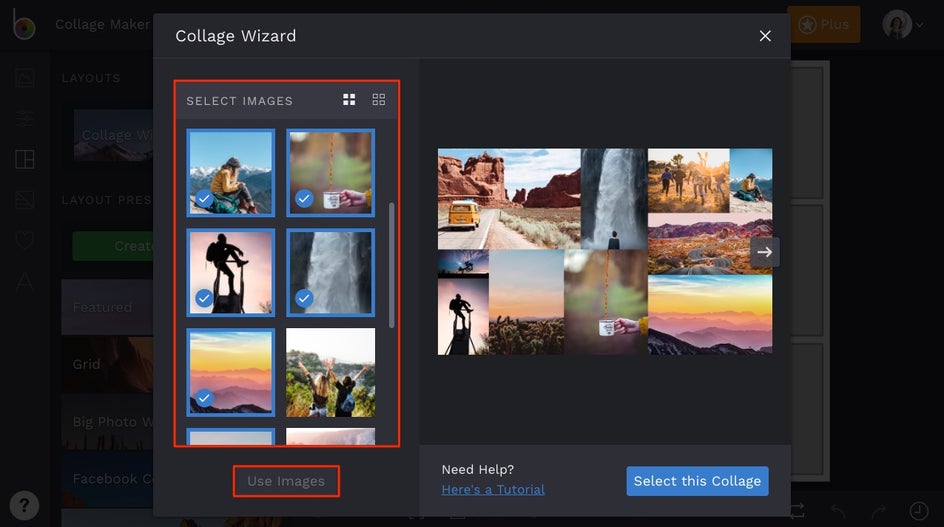 Use the arrows on the left and right to scroll through an almost infinite number of high-resolution layouts, all without cropping your photos. Instead of cutting parts of your image out, the ultra-intelligent Collage Wizard uses a sophisticated algorithm to automatically arrange and fit your photos into beautiful custom layouts. That means you'll never have to worry about a bad crop job or individual image aspect ratios again! When you find the perfect layout, click Select This Collage.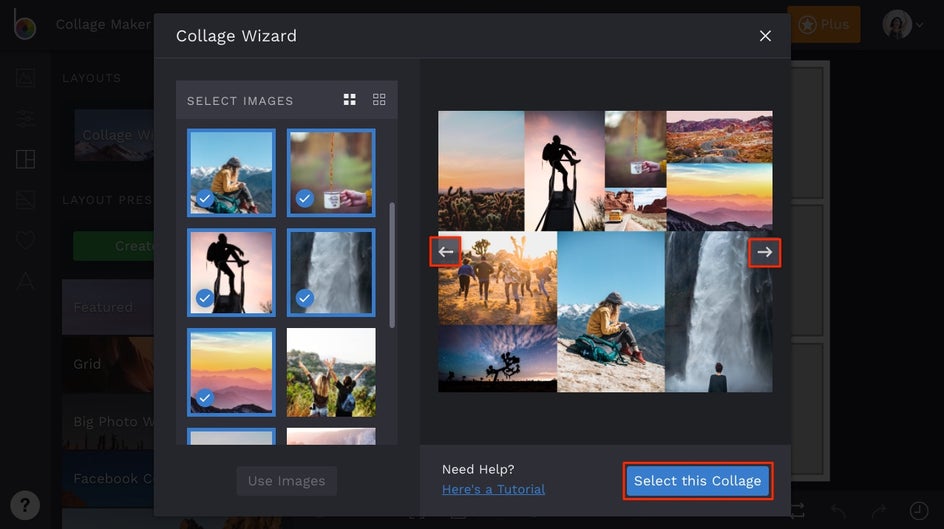 Pro Tip: The algorithm also creates vertically and horizontally oriented layouts to provide you with more options. And when you add more images, your layout options increase exponentially!
How To Resize And Customize Collages
Once you've selected the Select This Collage button, the layout will automatically load onto the Collage Maker canvas. To resize it, simply click on the borders of your collage and drag to adjust the size, up to 4000 px. Our super smart Collage Maker also lets you use a fixed variable ratio, so your pictures never get stretched out, and your pixelage is always as high quality as possible.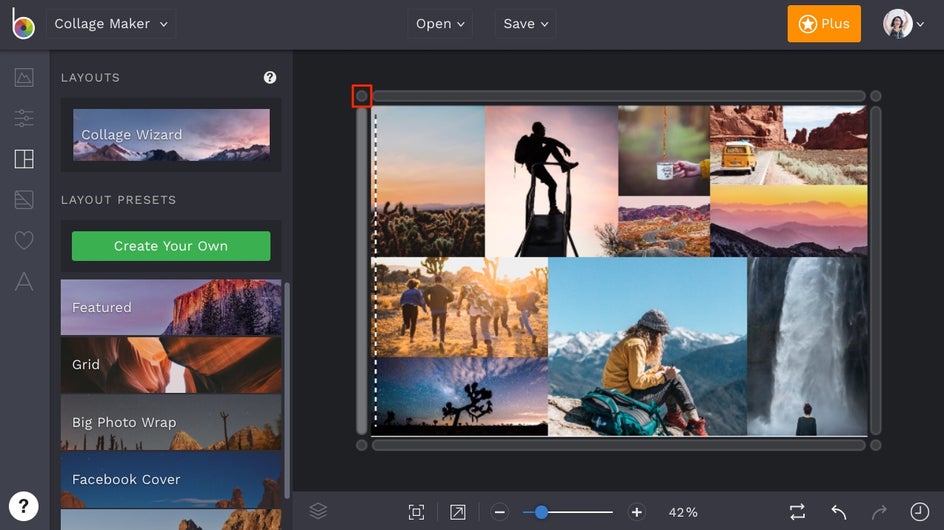 Pro Tip: Decide one of your photographs doesn't quite make the cut? Simply click on it, and you will be given the option to edit it, remove it or delete the collage cell all together.
The Customize tab in the menu on the left also offers plenty of customization options for precise resizing, changing the spacing between cells, and more. Adjust the Spacing slider to adjust the amount of blank space around your photos, use Corner Rounding to add curves to cells, change the background color, or get into the details and adjust size on a pixel-by-pixel basis.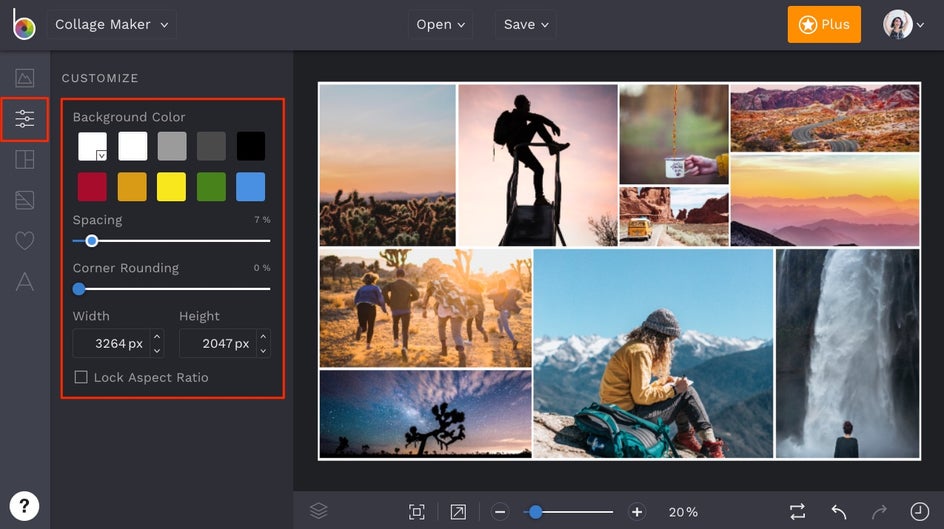 Pro Tip: Don't stop there. To truly make your collage unique, add Patterns, Graphics or Text by choosing from the menu on the left.
Final Results
There you have it - a perfectly sized high-resolution collage created by our very own Collage Wizard: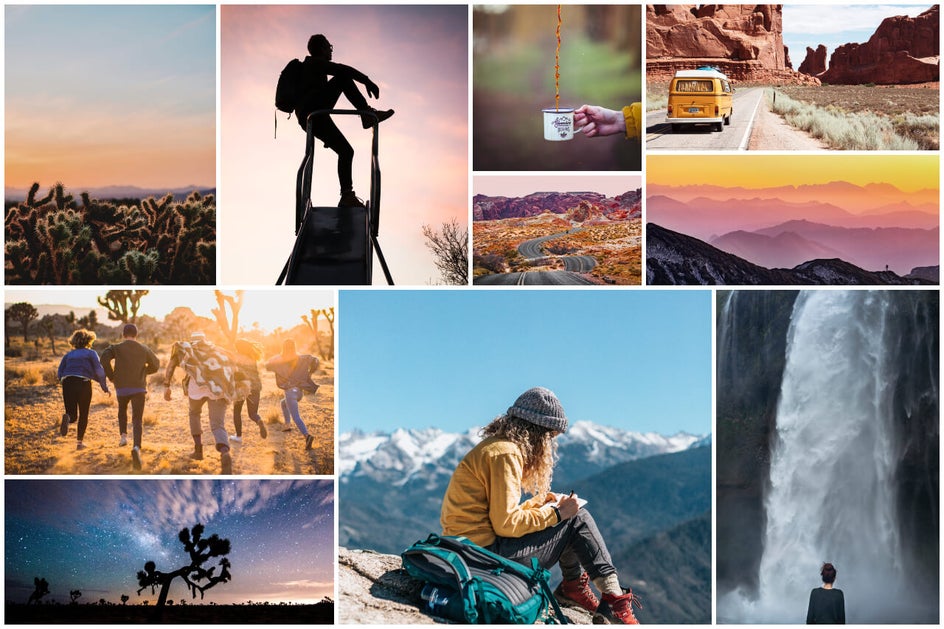 The Collage Wizard may sound too good to be true, but this is no hocus-pocus. To experience the magic of this one-of-a-kind collage-creating tool for yourself, just click the button below.
The Easiest Collage Maker on the Web
---