Copy/Paste Text and Images Straight to Your Canvas With BeFunky
We're pleased to announce our newest feature – the ability to copy and paste both text and images directly from your clipboard to your canvas. All you have to do is choose your work in progress from your computer or browser, then copy and paste as you would with any other tool. It's that simple.
Import Lines of Text
We've made copying and pasting text even easier. Simply paste your text onto your project and we'll add it as a new text layer for you! And if you have other text layers in your project, text pasted in from an external source will take on the same attributes as the last text layer you edited in BeFunky. Keep your design cohesive without worrying about matching all the individual settings.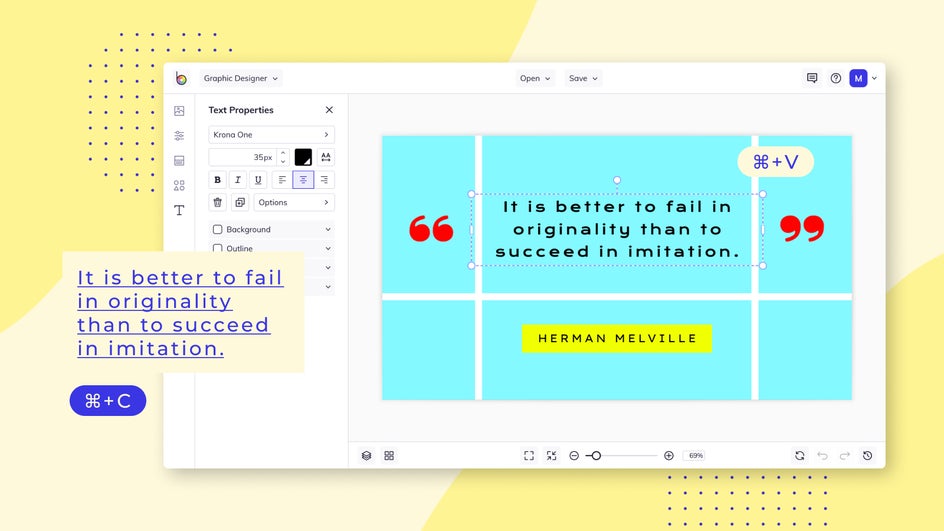 Transfer Your Images
This new feature applies not only to text – it also works with images. For a single image in the Photo Editor or Graphic Designer, you will be prompted to add the image as a background or layer. And in the Collage Maker, you will be prompted to either add the image as a layer or as a grid cell. When adding multiple images across the app, they will appear as layers. This makes it fast and easy to transfer as many images to BeFunky as you want!
Do note that when you add an image as a layer, it will appear in your Image Manager. This also applies to cells in the Collage Maker. However, when you add an image as a background, it will not.
Pro Tip: For the smoothest experience, you'll need to use your keyboard shortcuts when copying (Ctrl/⌘+C) and pasting (Ctrl/⌘+V) your text or images.
Copy/Paste to Streamline the Creative Process
With this new feature, it's easier than ever to streamline the creative process. Automatically add any text or images to your canvas and make BeFunky your final editing destination today.
---