How to Make DIY Recipe Cards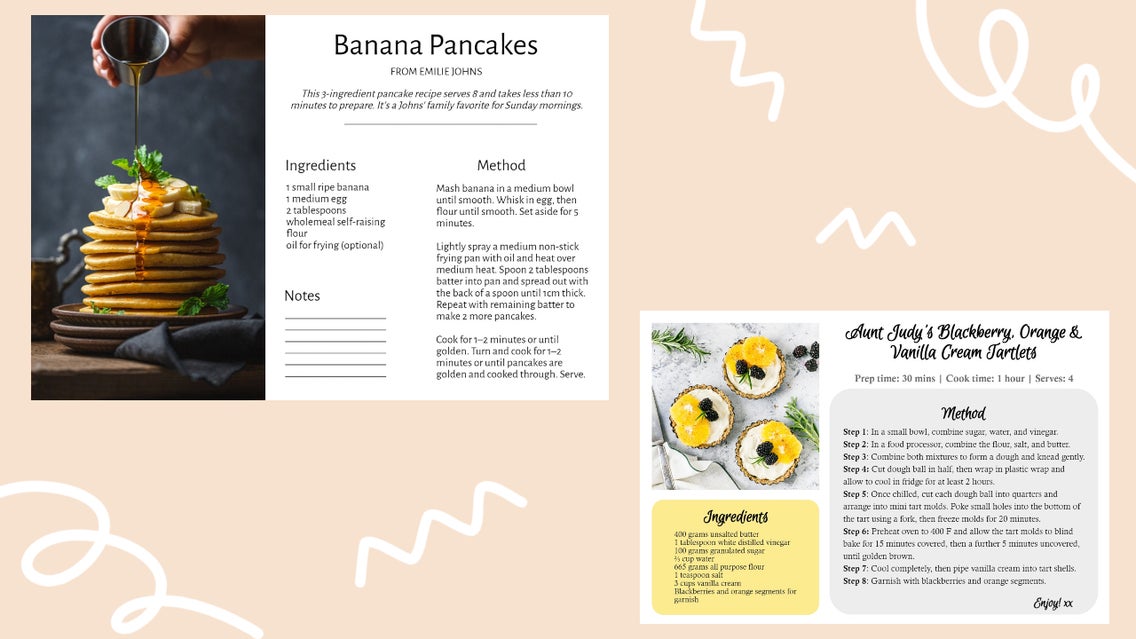 We all have that one recipe that our friends and family can't get enough of. It's the dish you're always asked to whip up for events and the recipe you find yourself forever scribbling down in loved ones' notebooks for them to replicate. But what if you could create your own eye-catching and easy-to-follow Recipe Cards to send their way instead? In fact, what if you could immortalize all of your special recipes (including those passed on to you) in your own collection of custom Recipe Cards?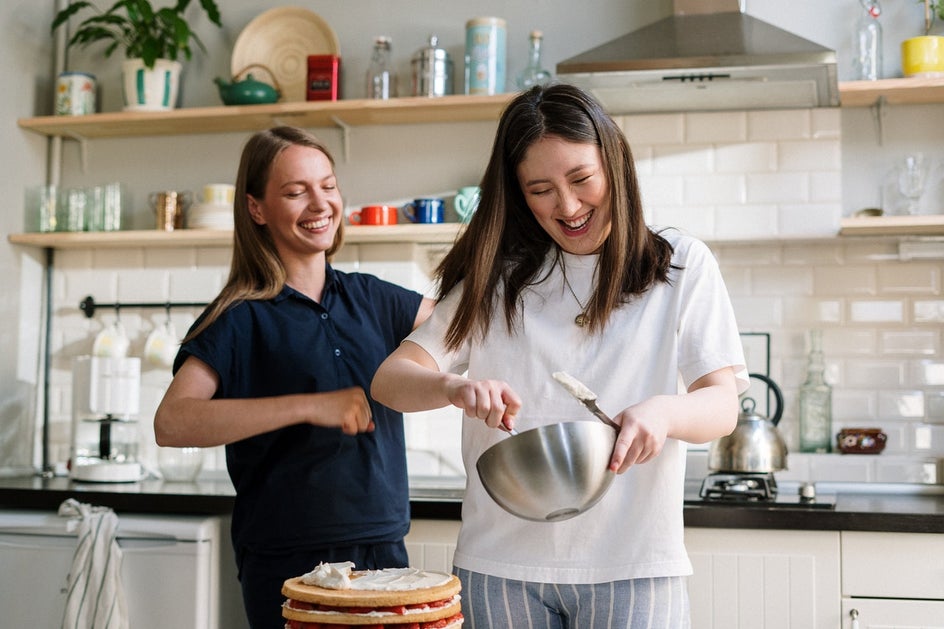 You see, BeFunky's Graphic Designer also acts as a Recipe Card maker, providing every tool or template you need to create your very own printable Recipe Cards. Let us show you how!
How to Create Custom Recipe Cards
To get started, head to the Graphic Designer and start with a blank canvas. You'll find the Blank Canvas tab located at the top next to Templates when you start a new design. There are many sizes to choose from for your Recipe Card, but we'd suggest any of the options located in the Print section. For this tutorial, we've selected Postcard 6x4".
Firstly, we recommend adding an image to accompany your recipe. To do this, navigate to Image Manager in the main menu on the left. Clicking the green button featuring three dots will let you upload your image from your BeFunky account, Facebook, or Google Photos. To upload an image from your computer's files, just click the green Computer button.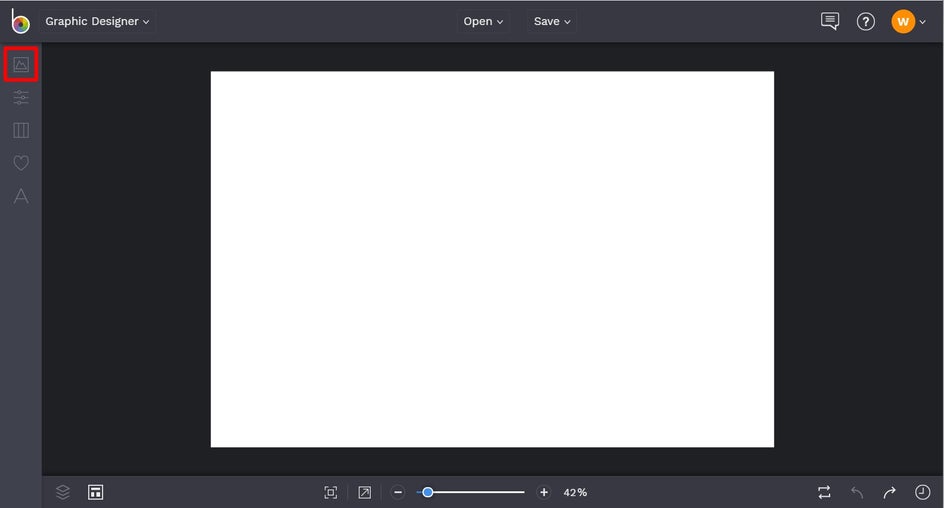 Alternatively, if you wish to use a stock image on your Recipe Card, click Search Stock Images. This will open the Stock Image Library, from which you can browse the Featured Images, type your search term into the search bar on the top-left, or click on one of the Popular Searches on the left.
From the Image Manager, you can double-click your image to add it to your canvas, or alternatively, click and drag it into place on your canvas.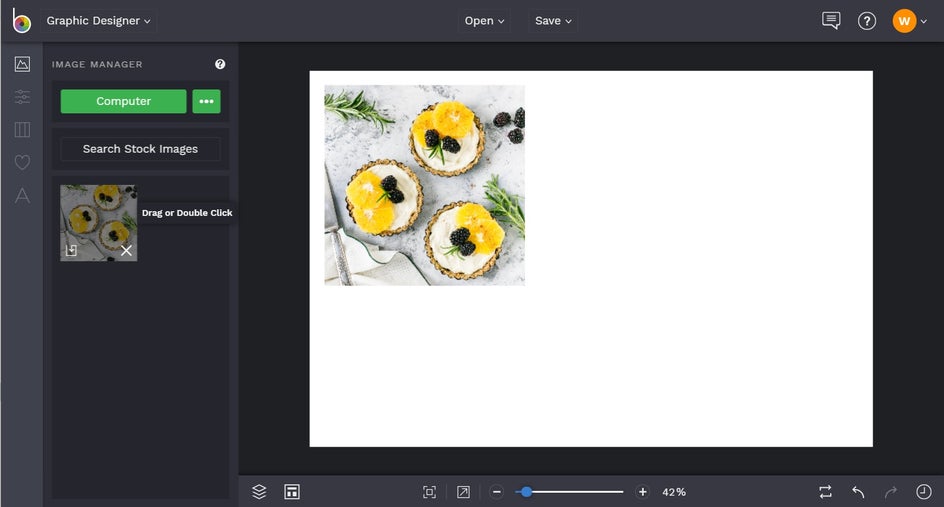 Next, it's time to add some shapes or graphics, if you wish, to form the different sections of our Recipe Card. To access these, click Graphics (the heart symbol) from the main menu. Here, we've used the square located in the Basic Shapes section, but you can also browse BeFunky's huge Graphics Library for additional graphics by clicking on Search Graphics.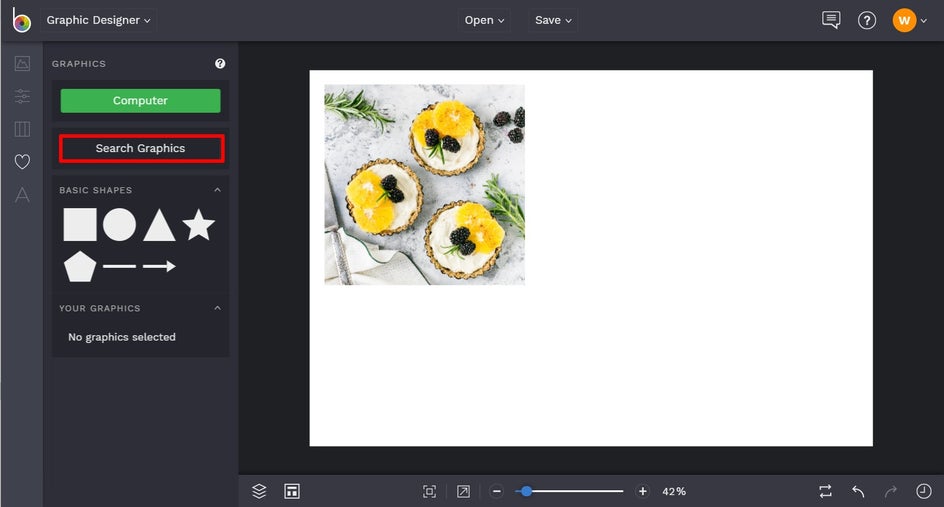 Simply browse the Editor's Choice graphics, enter your desired search term, or click on one of the popular tags featured in the bottom-left corner. Any graphics you select will then be added into Your Graphics, located in the Graphics tab. You can then click and drag them onto your canvas.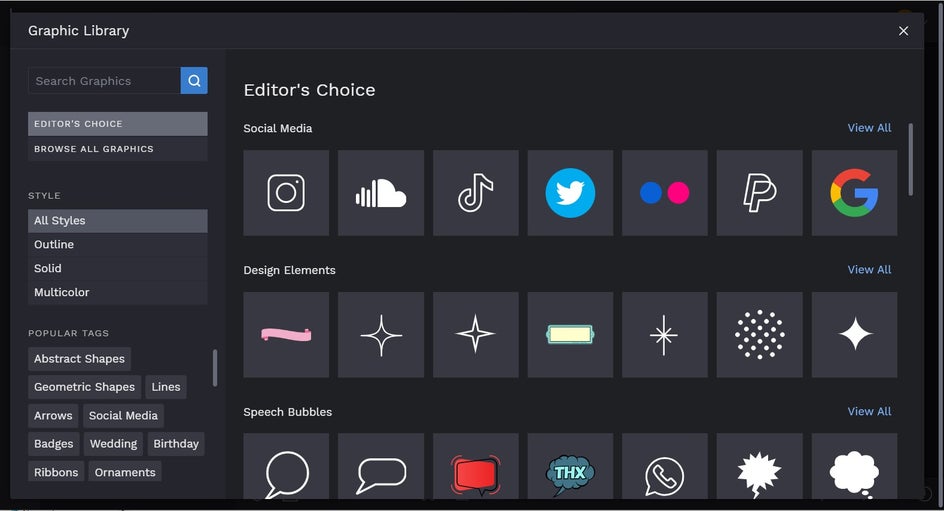 Want to change the colors of your Graphics? Click on the graphic, then from the Graphic Properties panel, click on the relevant square to adjust the Fill, Color Overlay, or Graphic Colors. You can also adjust your shape's Fill color, if available. Simply select a color, type in the HEX Color Code, or use the Eyedropper tool.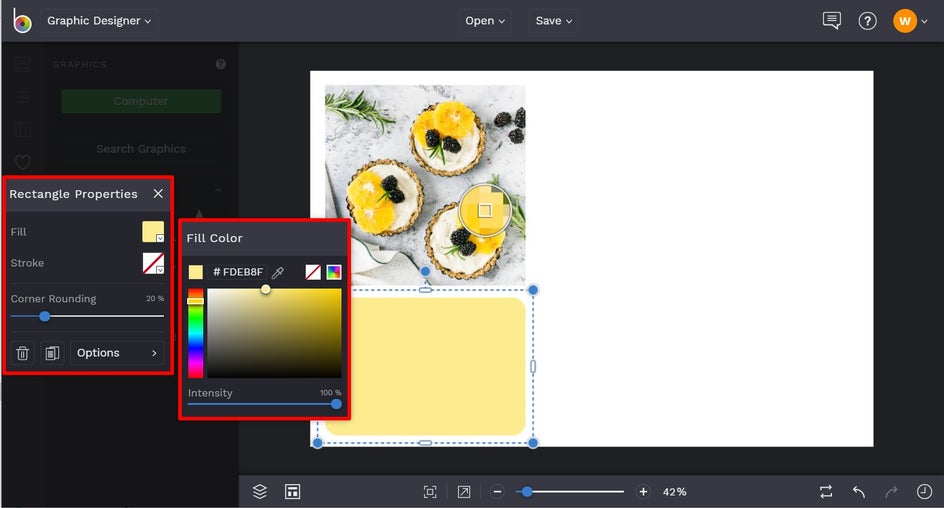 We've also adjusted the slider underneath Corner Rounding to give our rectangle some rounded corners.
Want to duplicate any design elements on your canvas? Just right-click the element, then select Duplicate Item. You can alternatively press the "D" button on your keyboard while you have an item selected to duplicate it.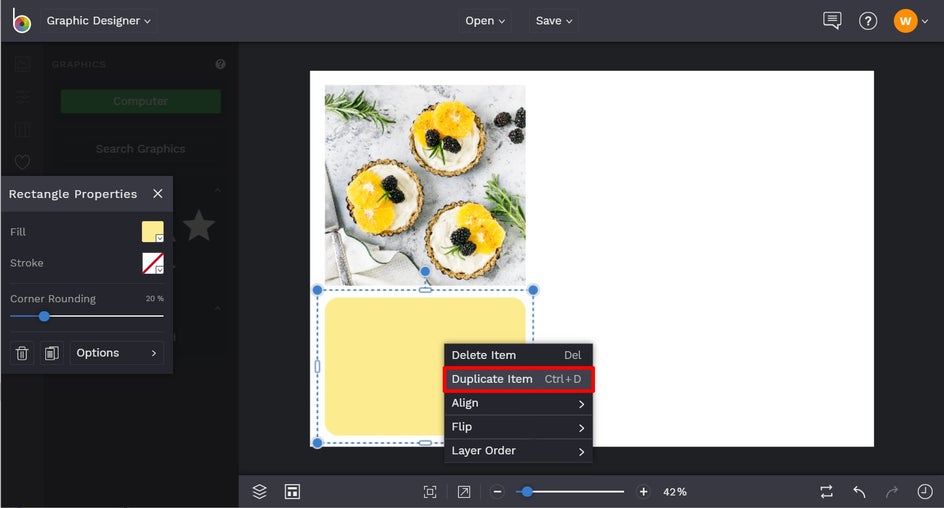 Next up, we're going to add text to the Recipe Card. Navigate to Text in the main menu on the left, followed by Add Text.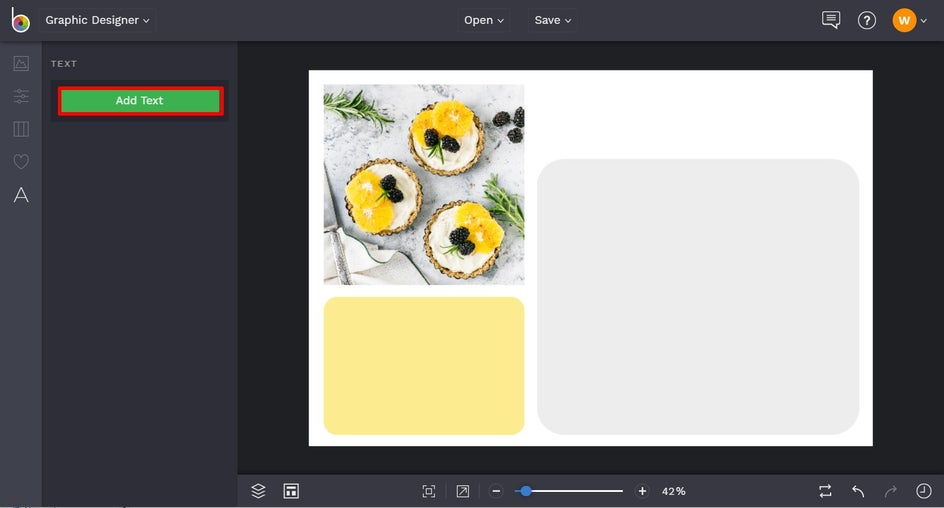 Simply double-click the new text box and type in what you want it to say, then use the Text Properties panel to adjust it as you wish. For example, from the panel you can change the Font, Size, Spacing, Text Color, and more. Repeat these steps for as many text boxes required.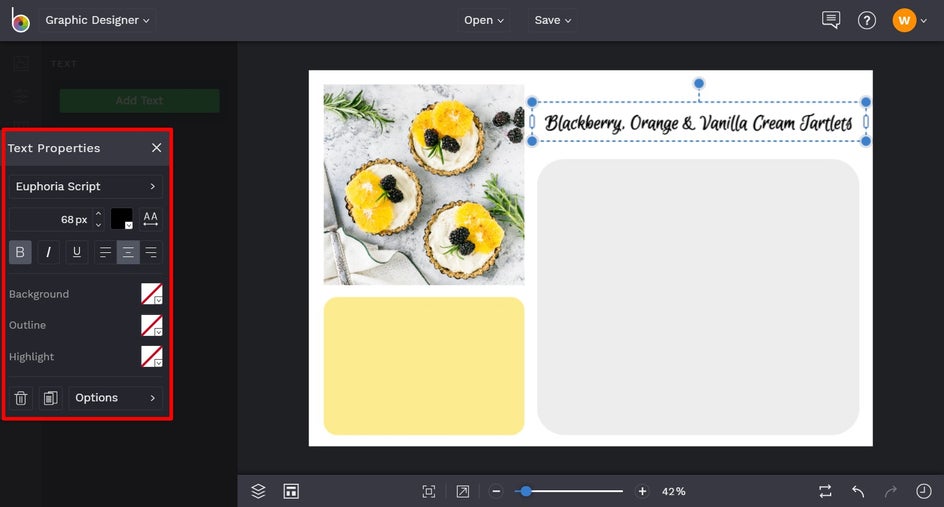 Finally, it's time to save your design so it's ready to be shared with your loved ones – whether in print or digital form! Click Save at the top of the screen, then choose your desired save location and format.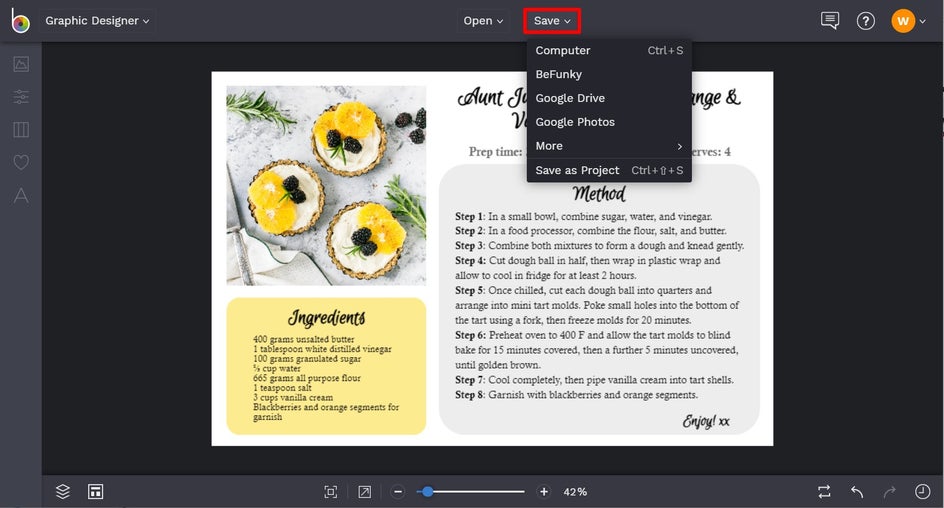 We also recommend the Save as Project option so you can come back to your Recipe Card design at a later date if you want to replicate the design with another recipe or fix any pesky typos.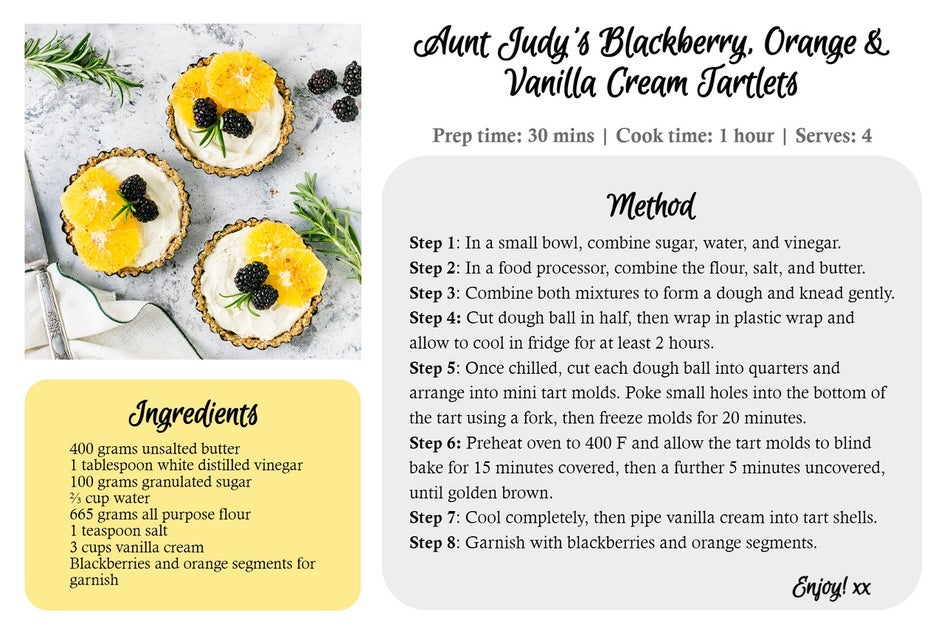 Ta-da! Wasn't that easy? Simply go to the Graphic Designer and follow the steps above to create your own custom Recipe Cards!
Recipe Cards Inspiration
In need of some additional Recipe Card ideas? There's no shortage of unique styles and designs you can try. Here are just 3 of our favorite ideas to inspire your next Recipe Card project!
Cookbook Inspired
Why not whip up a Recipe Card that looks as though it's straight out of a professional cookbook or glossy food magazine? The trick is to feature a large image, along with plenty of whitespace and a minimal color scheme.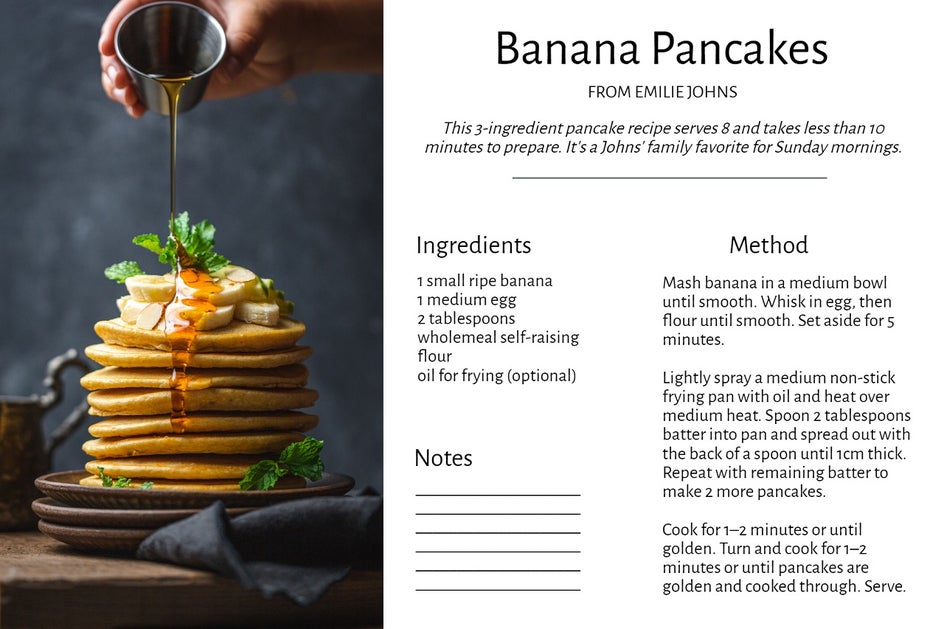 Go one step further and include a little introduction about the recipe, including why you or your family love it so much. A space for notes also adds that special touch, allowing you to either leave a heartfelt message for the recipe recipient (now, that's a tongue twister) or allow them to jot down their own memos.
Double Sided
Taking inspiration from a traditional postcard, the double-sided Recipe Card is perfect for displaying a big and brilliant photo of your dish that takes center stage – all without sacrificing space for the required information, of course.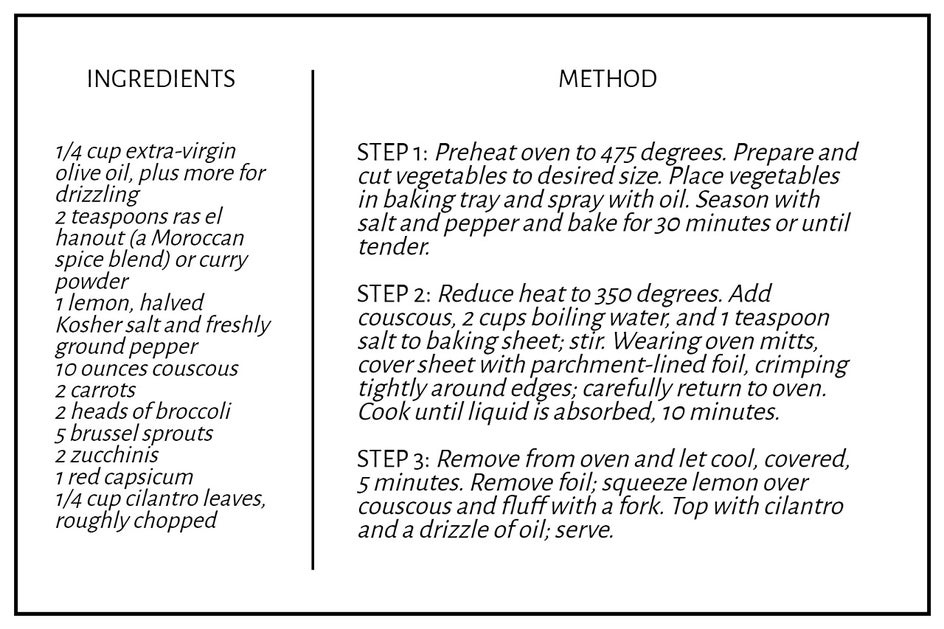 It also allows you to have fun with a large and eye-catching recipe title, as well as a unique layout, if you wish. We kept the overside of this Recipe Card simple, but there is no limit to what you can create!
Custom Template
If you'd rather a Recipe Card template that you can print to use over and over again, then you can easily do that too. Simply create a Recipe Card with plenty of lines to fill-in and you've got yourself your very own Recipe Card that's perfect for gifting on-the-go.
Bring several copies to your next friend or family function, ready to not only write down your own recipe to give out, but also to record those dishes you just have to replicate yourself!
Final Image
Immortalize all of your favorite recipes and spread the culinary cheer by creating your own Recipe Cards.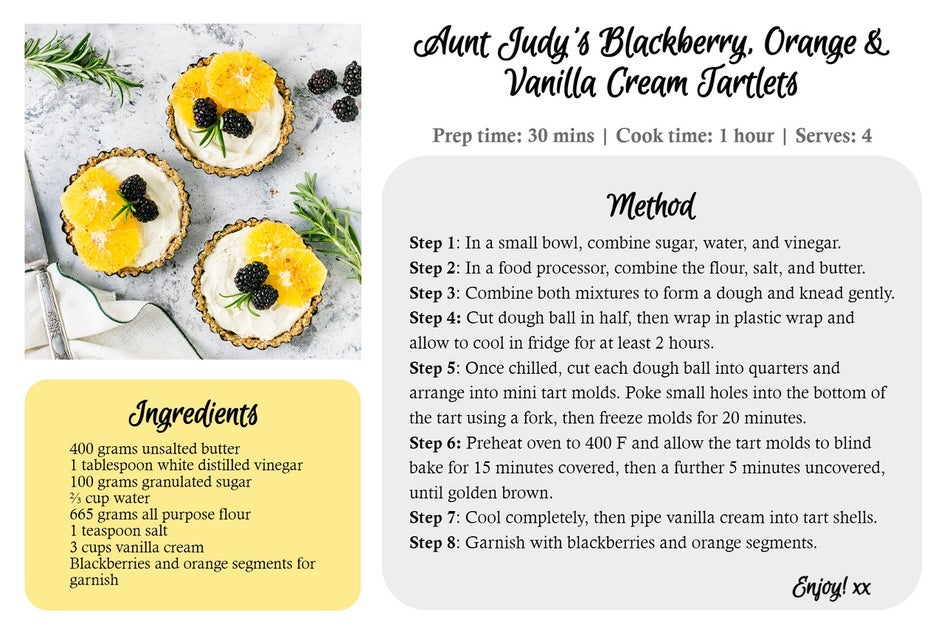 Thanks to BeFunky's Graphic Designer, you now have a quick and easy printable Recipe Card maker at your disposal. High-five to that!
Graphic Design, Simplified.
---