How to Turn a Photo Into a Watercolor Painting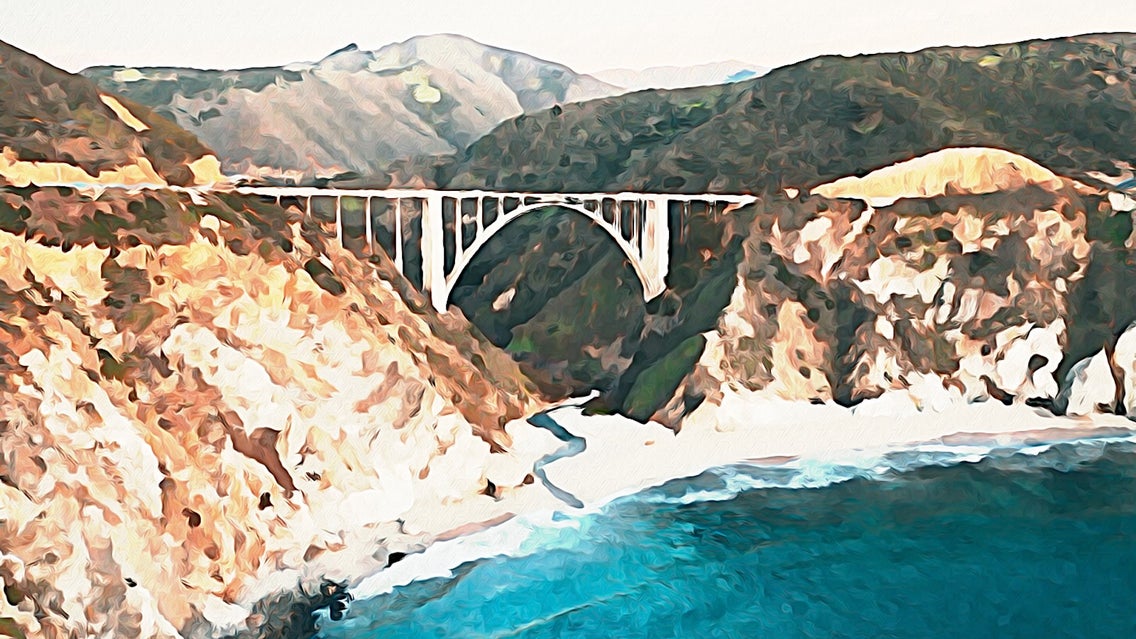 Although watercolor paint is an ancient medium, you're bound to see it in a variety of places today – in wall art, on greeting card designs, as accents for logos and branding, and more. If you love the look but don't have the time or energy to paint what you're thinking of, why not turn your favorite photos to watercolor paintings with the help of BeFunky? With several styles of customizable watercolor filters to choose from, you're bound to get the look you're going for – all in a single click!
In addition to being incredibly easy to use, these Watercolor effects are completely unique to BeFunky and powered by artificial intelligence to make the results amazing. They look great on a variety of photos and subjects, so grab a few of your favorite photos and follow the tutorial below to learn everything you need to know. Be warned though: once you start turning your photos to watercolor paintings, you're not going to want to stop.
How to Convert Photos to Watercolor Paintings
BeFunky's Watercolor effects are located in the Photo Editor, so head there now and follow the steps below to create your next masterpiece:
Step 1: Upload a Photo
Click the Open button at the top of the Photo Editor and choose a file from your computer, or simply drag-and-drop a file right onto the canvas.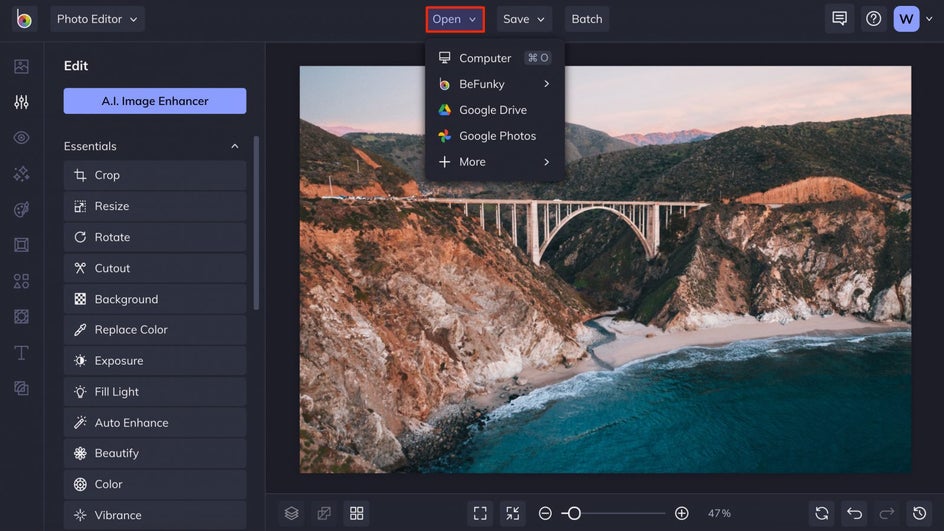 You can also upload a photo from your BeFunky account, Facebook, and more from the same dropdown. Or, you can use the Search Stock Images button to search over a million free stock photos to use.
Step 2: Choose a Watercolor Effect
When you click on the Artsy tab in the left sidebar menu, you'll find many different styles of photo to art effects. Choose the Watercolor category to start browsing the different watercolor effects on your image.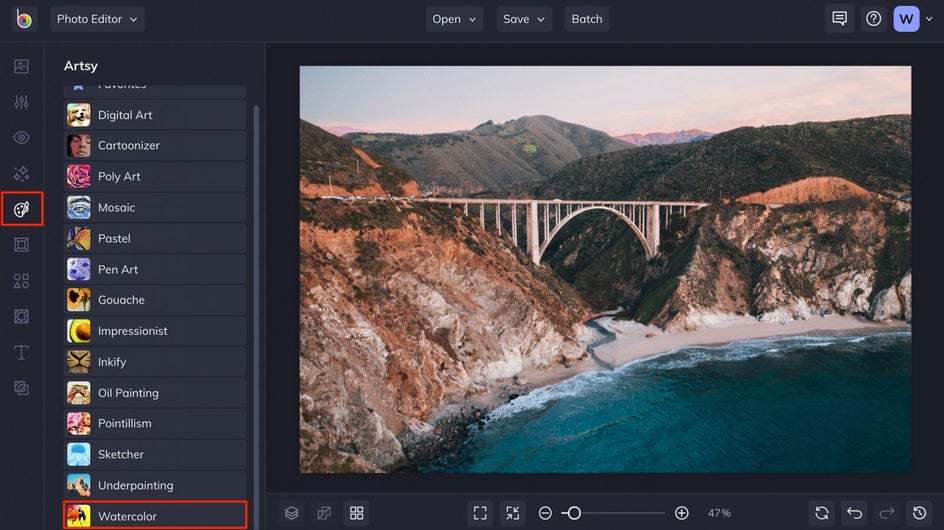 Each time you click on the different Watercolor effects, you're able to preview what that effect looks like right on your photo. Browse our assortment of effects and feel free to use the slider to increase or decrease the amount as you go along.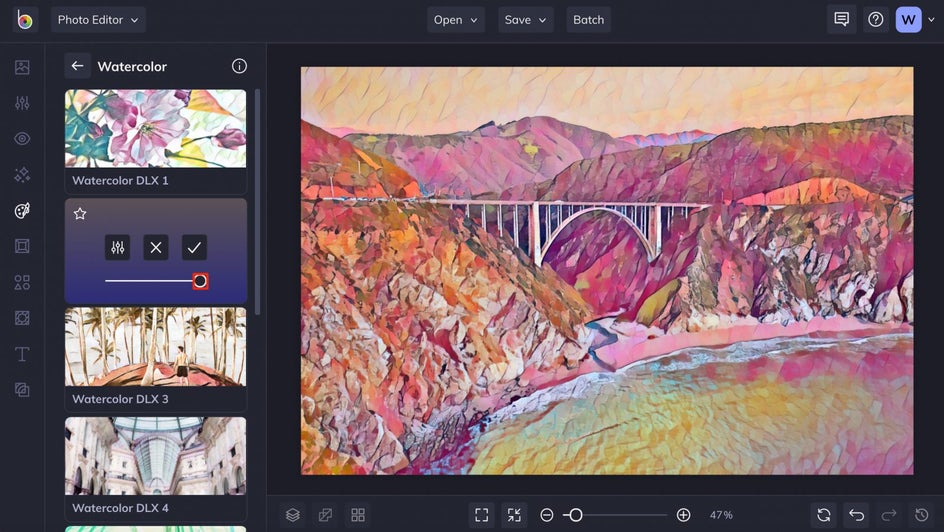 Step 3: Customize the Watercolor Effect
Once you find the effect you want to use (we decided that Watercolor 1 was the perfect look for this photo), you can customize the effect even further by clicking on the Settings menu.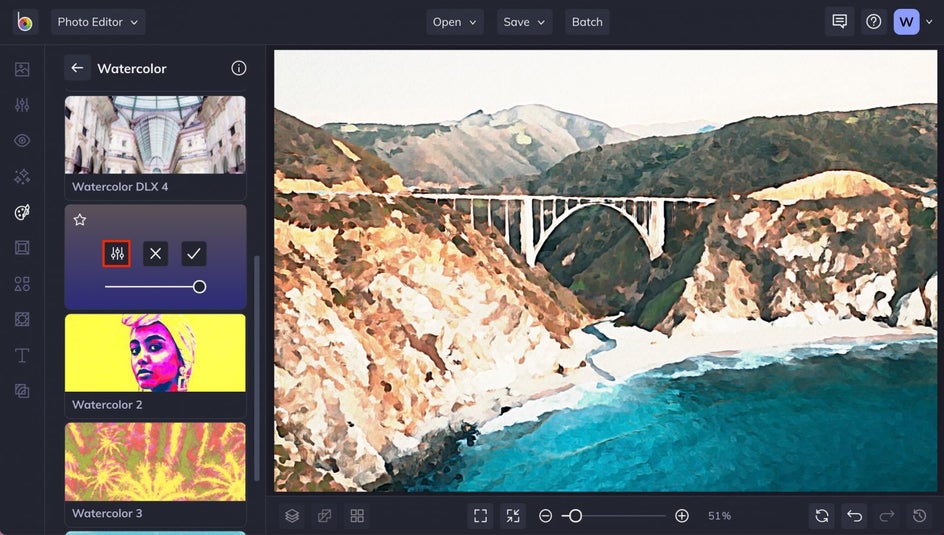 Each effect will have its own unique Settings menu. In the Settings menu for this Watercolor 1 effect, you're able to adjust the Amount, Paint Amount, Sharpen, and Smoothness. Simply drag the sliders to the right (to increase) and left (to decrease) until the watercolor filter looks just right.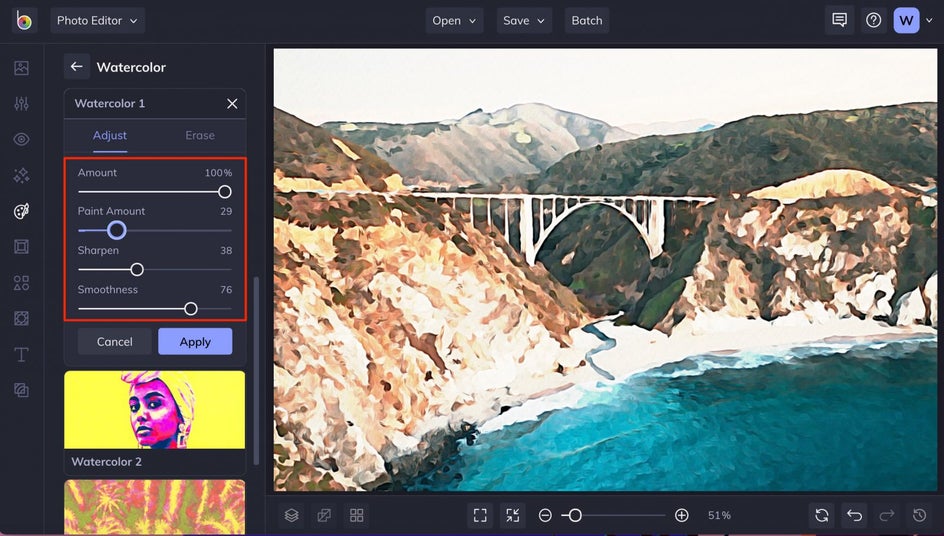 The Settings menu also gives you the ability to erase the Watercolor effect from parts of your photo if you wish. To erase portions of the effect, click on the Erase tab. Then, use the Remove and Keep buttons while clicking and dragging the brush.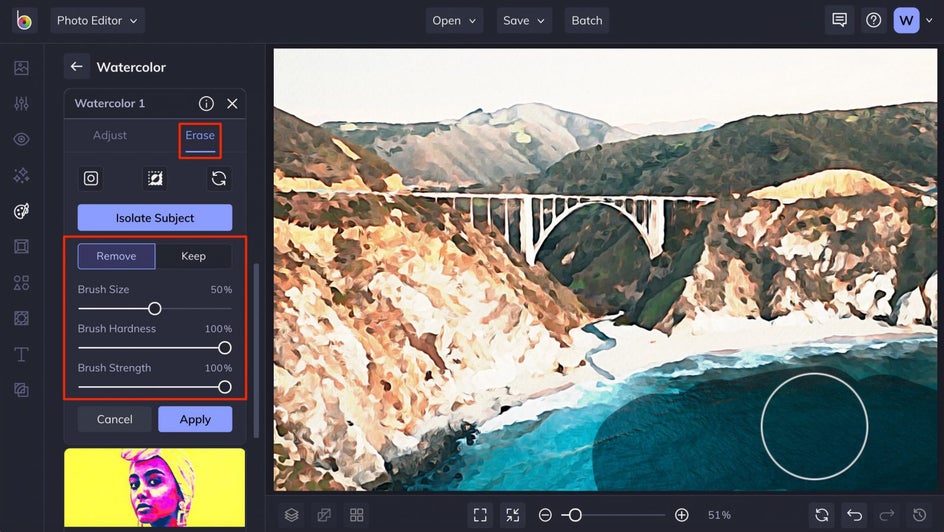 Step 4: Apply the Watercolor Effect
Once you love what you see, click Apply to go from photo to watercolor painting.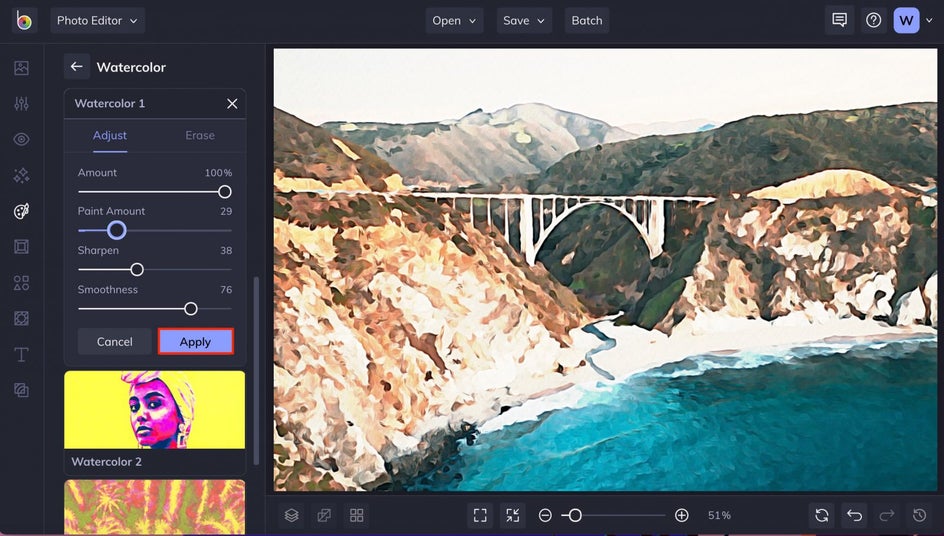 From here, you can keep on adding effects and editing your photo, or move right on to the next step.
Step 5: Save Your Photo
When you're ready to save your image, click the Save button at the top of the Photo Editor. You'll be presented with several options for saving photos – to your computer, BeFunky account, Facebook, and more.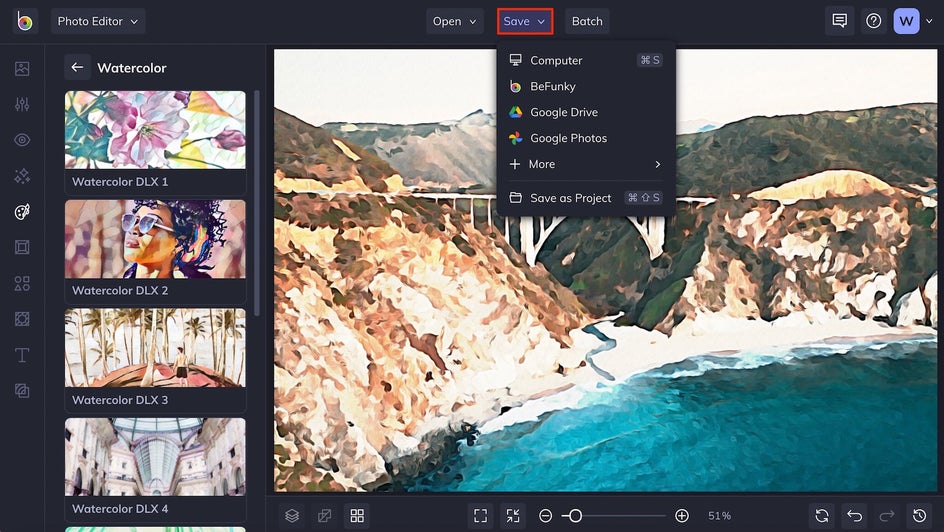 Choose a destination and follow the prompts to give your image a file name and choose a format.
Photo to Watercolor Before and After
This scene looks so whimsical and picturesque as a watercolor painting. Perfect for framing and using as wall art, adding to your graphic design project, or impressing your friends on social media!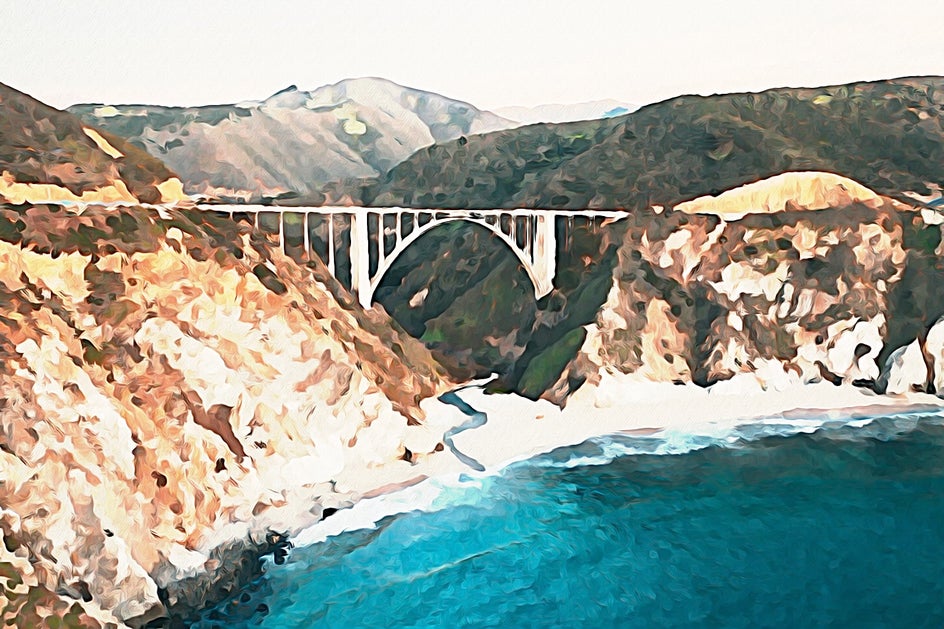 We bet you're feeling extra creative now that you're able to turn photos to watercolor with ease! Be sure to check out all of the Artsy effect categories to try even more styles of art and keep that creativity flowing.
Photo to Watercolor Inspiration
Wondering what kind of photos look best with BeFunky's Watercolor effects? The answer is so many kinds. Here are some of our favorite looks to inspire you:
Add Whimsy to Your Floral Photos
Floral watercolor art is so classic. Whether you're using photos from your own garden or BeFunky's extensive stock image library, flowers make the perfect subject for these watercolor filters. Here, they're paired with our Watercolor 1 effect.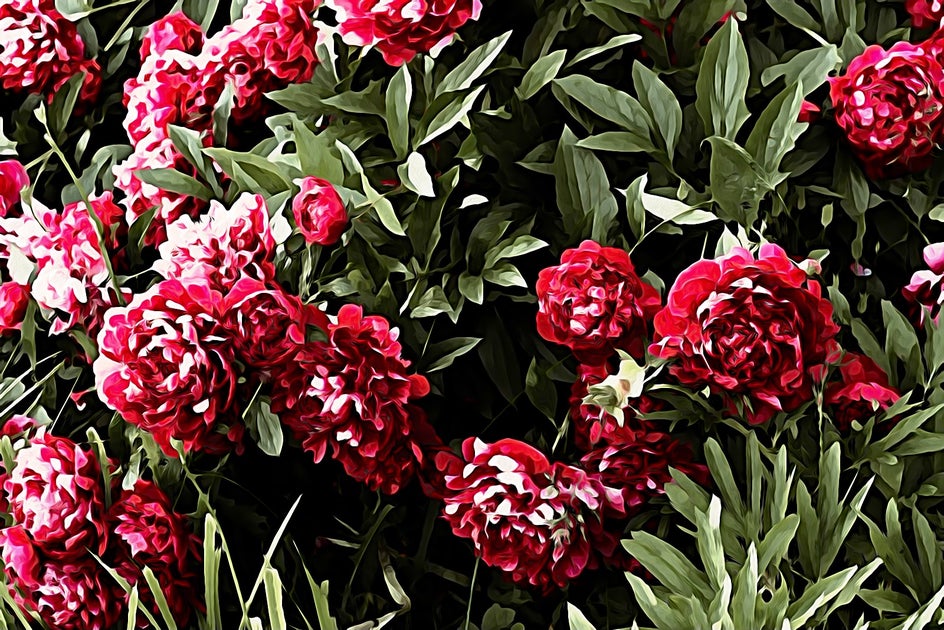 Create Watercolor Painted Portraits
Who doesn't love an artsy portrait? It's so easy to turn your portrait photography into a watercolor work of art with BeFunky's Watercolor effects. We've used the Watercolor DLX 1 effect to get this colorful look.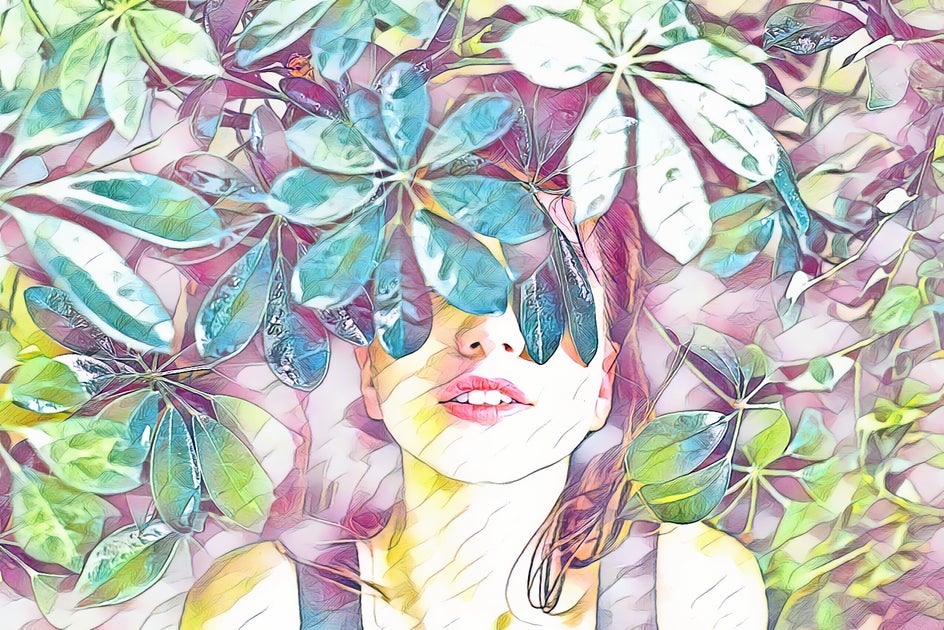 Make Some Landscape Art
Landscape photos are so perfect for framing as wall art, and adding a watercolor effect makes them look even more sophisticated without costing you a fortune. For this beauty, we used the Watercolor DLX effect, located in the Digital Art section of the Artsy tab.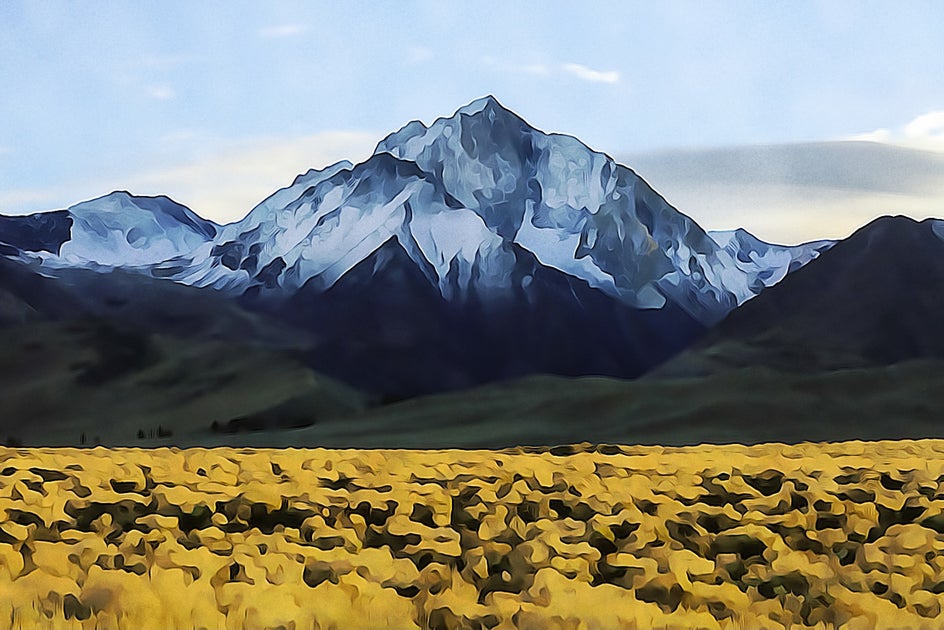 Turn Pet Photos to Watercolor Paintings
Ever wanted to make a painting of your pet? Well, now you can do it without having to make your pet pose while you break out the art supplies (impossible). Simply upload a photo of your pet and add your favorite watercolor filter with a click. This cat is looking all the more amazing with the addition of Watercolor DLX 4.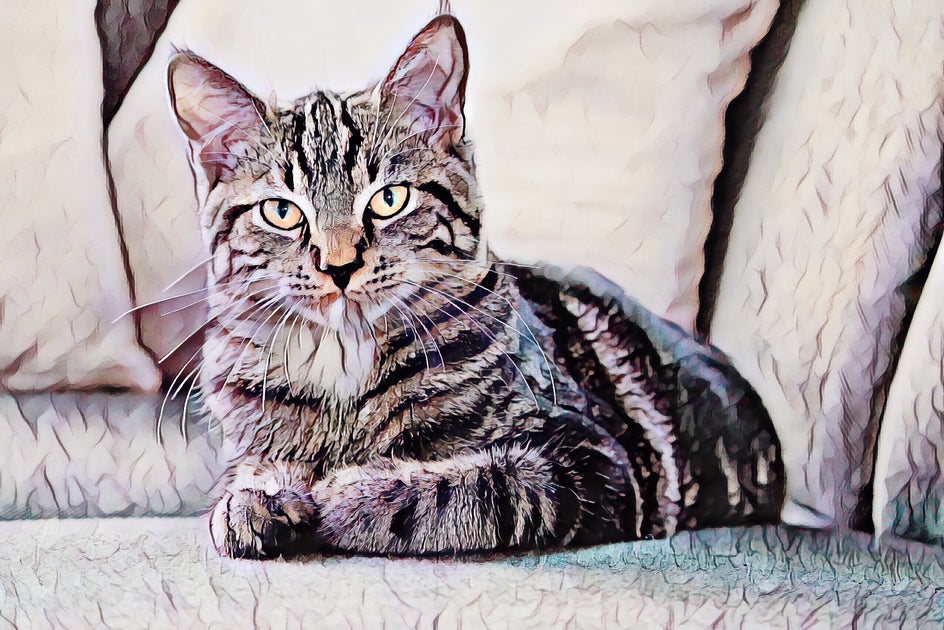 Create a Watercolor Painting, Sans Water
Ready to get started with these amazing Watercolor effects by BeFunky? Check out our full suite of Watercolor effects!
Go From Photo to Art in One Click
---