How to Design the Perfect Facebook Cover for Your Personal Page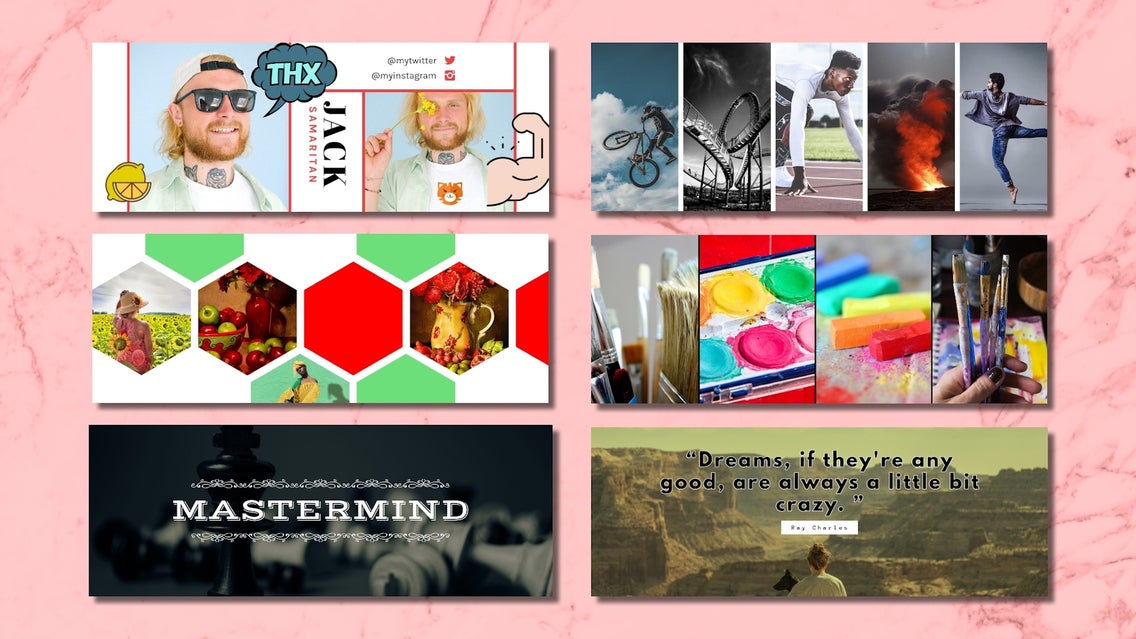 Much like the cover of our favorite book, our Facebook cover image is the first impression others will have when they visit our Facebook profiles. It is important to use a Facebook cover image that properly represents us so that visitors will have the right impression when scrolling down to learn more. 
Creating a custom Facebook cover photo is an easy way to make sure we are understood and give off the right vibe to new impressions and old friends. By using our Facebook cover templates, you can build the right cover photo to represent yourself. Read on to find out how. 
Step 1: Pick a Template
Open the Facebook Cover Photo templates available in the BeFunky Graphic Designer application. If you already have the Graphic Designer open, open the Templates tab on the left then click the Search Templates button to gain access to BeFunky's collection of nearly 100 unique Facebook cover photo templates, as well as templates for many other social media sites.
If If you already have the Graphic Designer open, open the Templates tab on the left and head to Social Media from the dropdown menu. From here, select FaceBook Covers. While the template you pick should look closest to how you'd like to represent yourself, this tutorial will use the "Black White whatever" template.
Step 2: Add Your Photos
Open the Image Manager tab to begin adding your photos. You can either use the Computer button to upload an image saved to your device, or use the "Search Stock Images" button to use BeFunky's large collection of available images. From here, thumbnails of your desired images can be seen. Simply drag the new image over the old image in the template to replace it. The image can be further adjusted, if necessary, by clicking on the added image.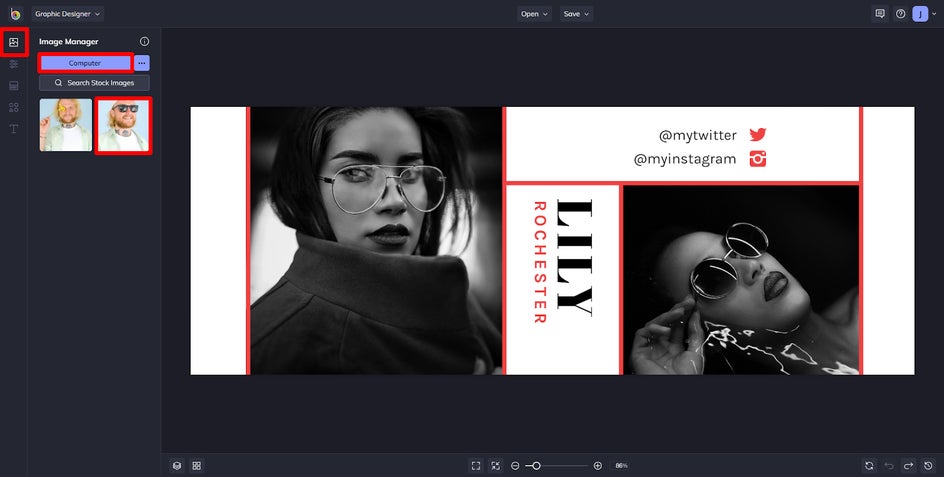 Step 3: Change the Text
Click on the text in the template to open the Text Properties options. Change the text to something more personalized for yourself, like your name or your own interests. Be sure to add your other social media handles for cross-promotion!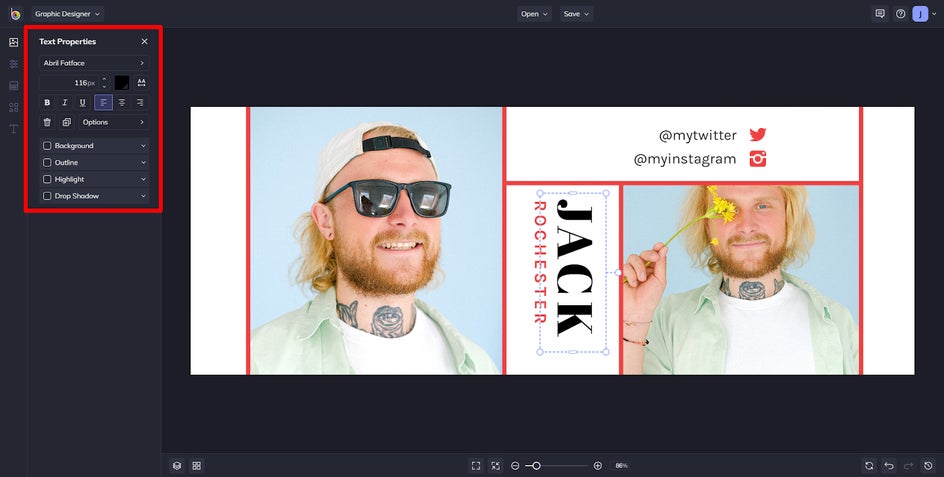 Step 4: Add Some Flair
For additional personalization, access the Graphics tab on the left to find more ways to season the project. This is a good time to access BeFunky's available catalog of graphics by using the Search Graphics button. This is the perfect time to express yourself with some graphics showing your interests, thoughts, or personality. After selecting some graphics, drag them onto the template or simply double-click them.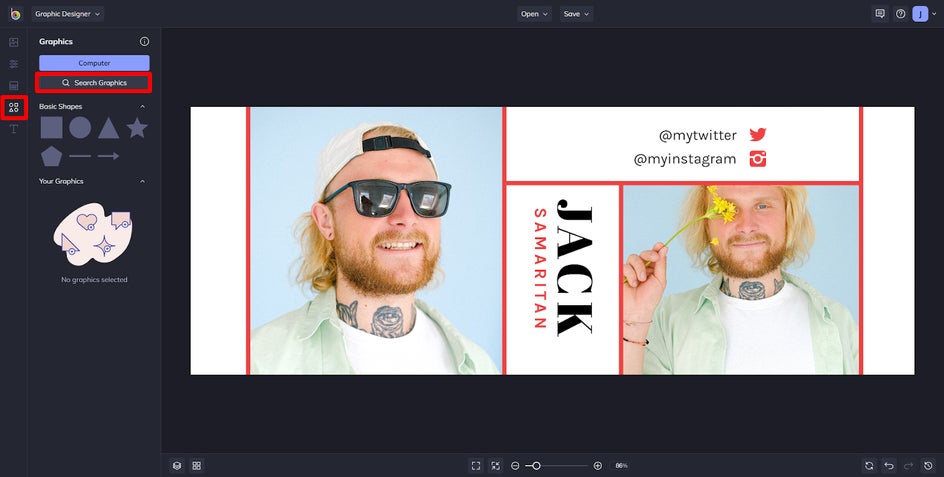 Step 5: Save Your Facebook Cover Photo
When you are ready for a creative break or are finished with your masterpiece be sure to save your work. Use the Save button to save your creation to BeFunky, your computer, or directly to Facebook as a post.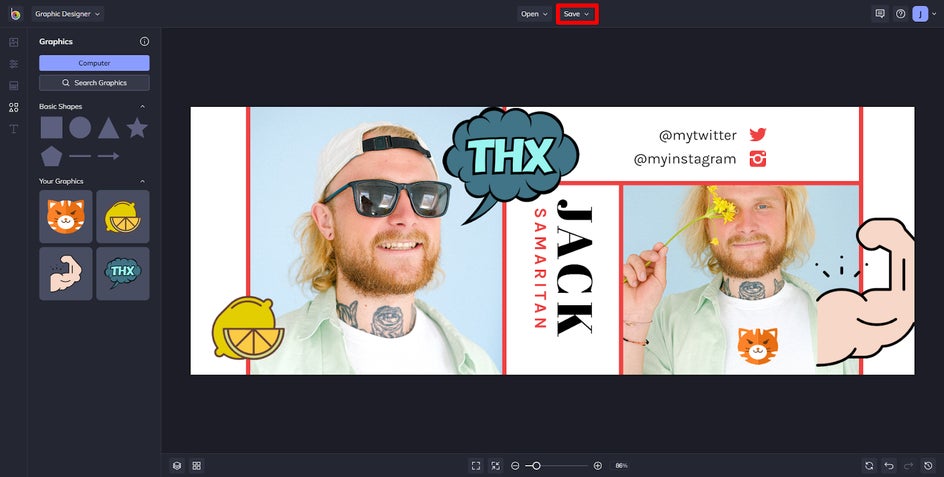 Success!
Now it is your turn to make your own quality custom Facebook cover photo. Head over to the Facebook Cover Photo templates in the Graphic Designer to get started, and follow these steps to put your best impression first on your Facebook page.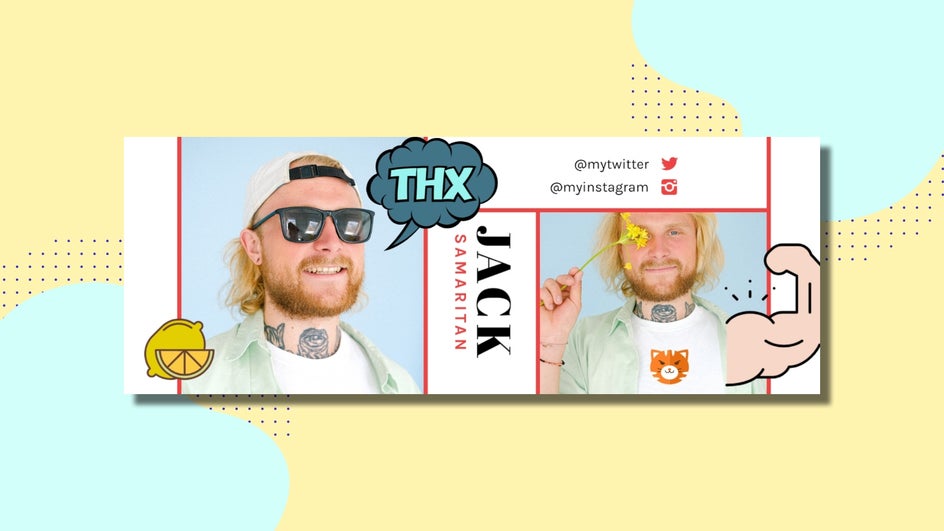 How to Express Yourself In a Cover Photo
Your Facebook cover photo is the first thing people will see when they visit your profile. It is important to use an image that accurately shows who you are! If you need somewhere to start, here are some ways to present yourself on the page that represents you:
Daring to Dream
Show off a picture of your last big adventure as you prepare for your next one. Add a quote that motivates you so others can see your inspiration. This style is a great way to help move others with your personal passion.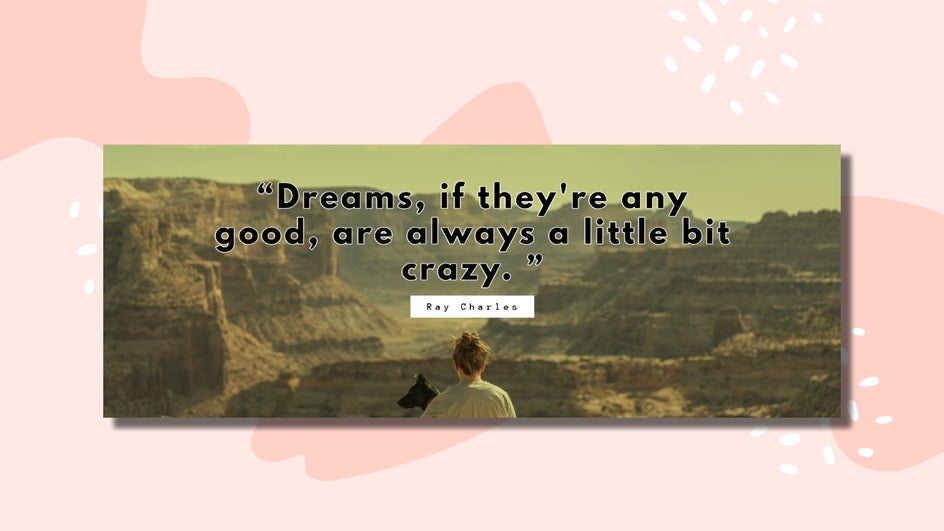 Super Straightforward
Cut the clutter and get straight to the point. If you want just the essentials and don't like to be bogged down by semantics, pick a cover photo that gets straight to the point: photo, text, done. This style is a great way to be recognized for your efficiency and professionalism.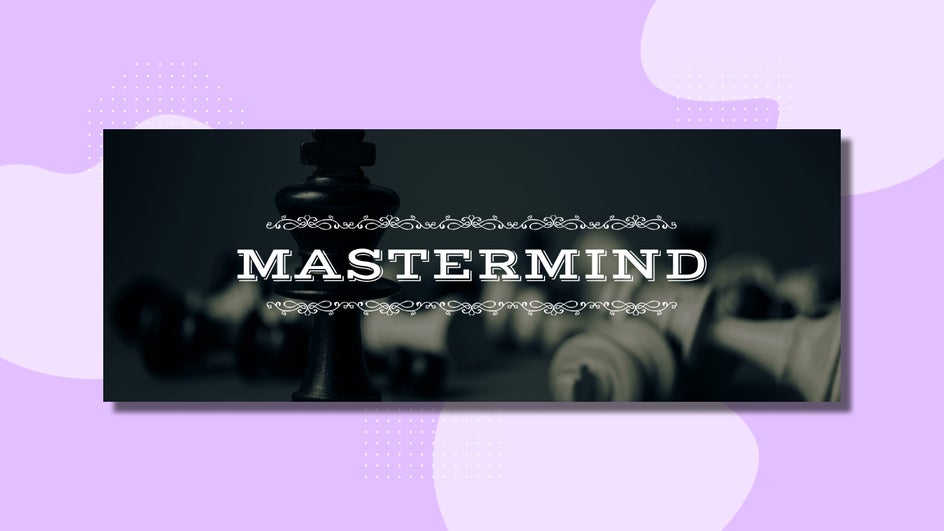 Creative Creature
A cover photo is another opportunity to flex your creations. Always imagining new ways to express yourself, make your cover photo a collage for your creative outlets. Recipes, artwork, or music is a great place to start, but you know how limitless the possibilities can be. This style is a great way to show pride in your creative works.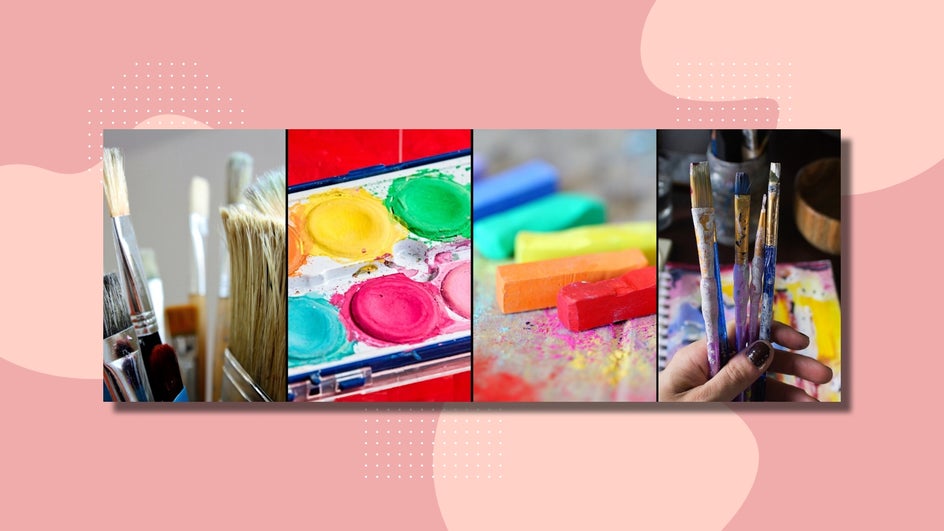 Bold and Brash
Big color means big personality. Make a big splash with a bold and brash cover photo. Add large swaths of primary colors to show that you're not afraid to assert yourself and your beliefs. This style is a great way to make yourself known and leave a strong first impression.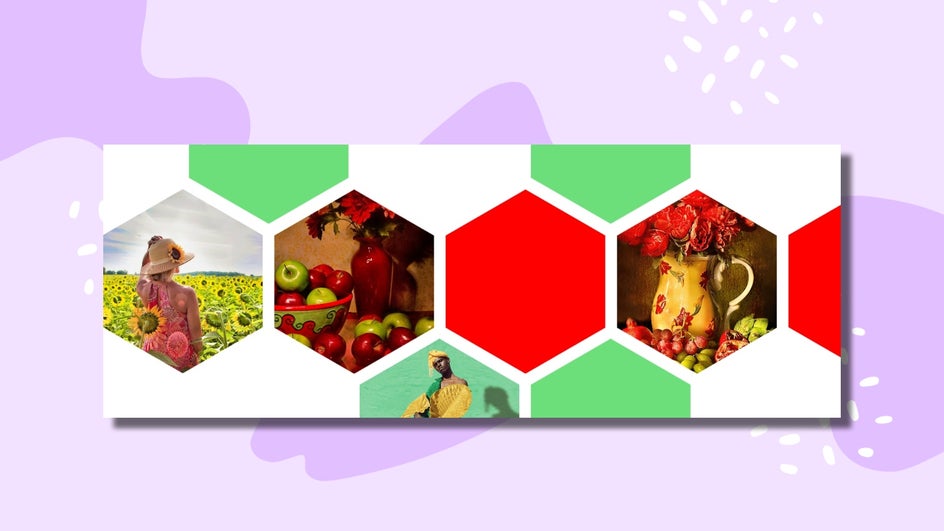 Always Active
When your life is in constant motion, your page should be moving, too. Highlight your craziest moments in motion and pair them with scenes packed with action. This style is a great way to show people that if they want to get a hold of you, they'll have to catch you first.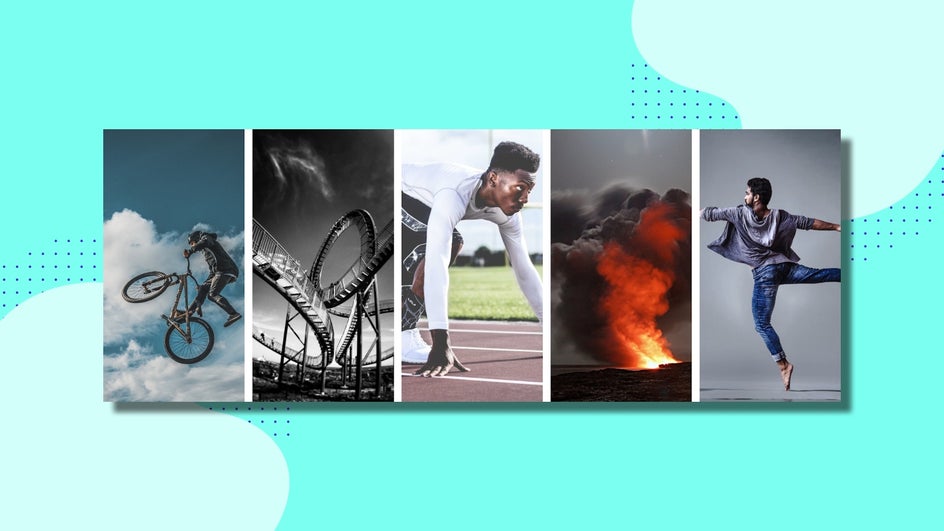 Graphic Design, Simplified.
---